Bangladesh elections; Apple and China; new Indonesian base
The Big One.
A simple message.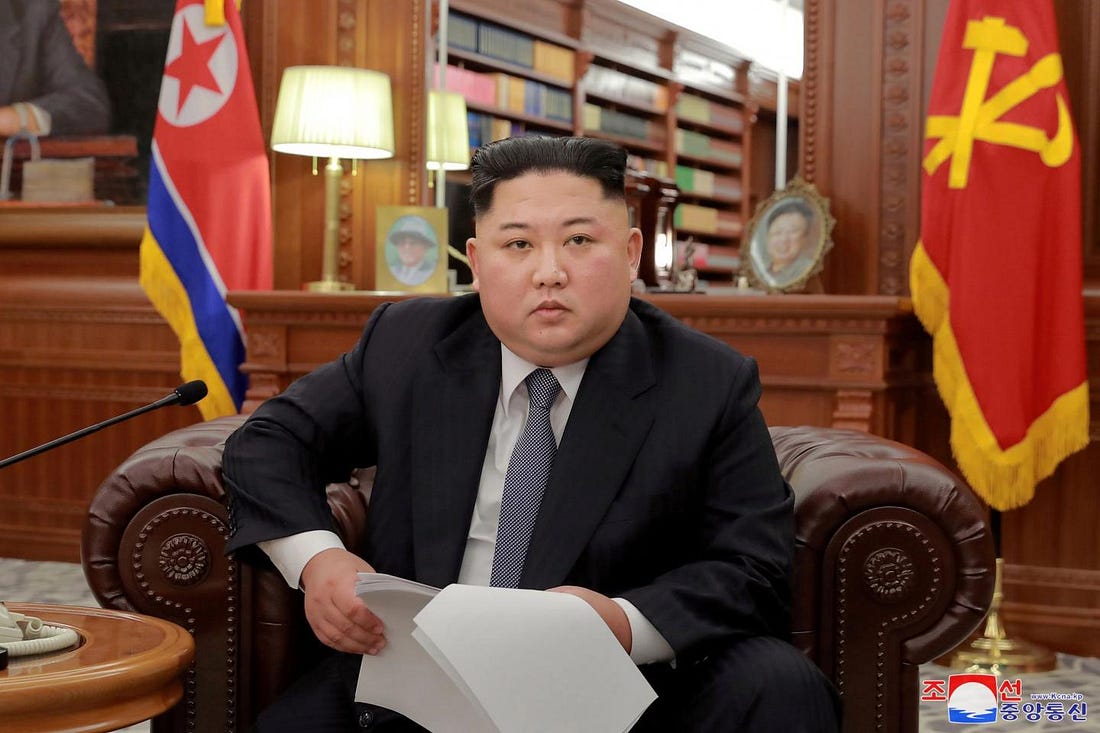 To kick off the new year, North Korean leader Kim Jong Un delivered his customary New Year's Day address to the country—his seventh since resuming the practice that his grandfather introduced and his father eschewed.
I broke down the speech's four major takeaways for The Diplomat and dove a little deeper into the diplomatic context in a separate article for Politico Magazine. Kim's main point on the diplomatic impasse with the United States was simple and reiterated a message we'd seen repeatedly appear in North Korean propaganda in the days and months since the June 12, 2018 summit meeting with U.S. President Donald J. Trump in Singapore—in fact, literally the day after the summit, we heard this very message.
In short, Kim's message to the United States was something to the effect of: "We went; now you go." He outlined the measures North Korea had taken to show its good faith intention to work toward the "complete denuclearization" of the Korean Peninsula. (A phrase that does not mean North Korea's unilateral disarmament.) In light of those actions, Kim outlined his expectations for reciprocal "corresponding measures" from the United States—reusing a term that had appeared in the September 19 inter-Korean declaration signed between him and South Korean President Moon Jae-in in Pyongyang during the fifth inter-Korean summit.
Speaking of Moon, Kim greatly praised the inter-Korean progress of 2018 and encouraged the South Korean government to push forward with inter-Korean economic integration and cooperation in the spirit of national self-determination. The push is logical for North Korea, which has sought to decouple Seoul from Washington and reap the benefits of integration with its prosperous southern neighbor. Indeed, Kim likely had a free assist in the form of the recent doldrums between Seoul and Washington over the negotiation of their Special Measures Agreement (SMA)—a bilateral agreement designed to govern burden-sharing for the alliance. Without an agreed extension, the SMA expired at the end of 2018.
Kim ended his address with a warning to the United States. If the "corresponding measures," including sanctions relief, do not arrive, he won't hesitate to take his country down a new path. He did not elaborate on what that meant but left enough ambiguity on the table to make the threat clear.
Welcome to 2019, everyone.
Bottom Line: Kim Jong Un wants the United States to swim toward further rapprochement before the diplomatic process between them that began last year begins to sink entirely.
East Asia.
On the second day of 2019, Tim Cook, the CEO of Apple Inc. released a letter to shareholders that would send markets tumbling the next day, ensuring that the volatility that marked the end of 2018 in global markets would continue. Cook downgraded Apple's revenue guidance for the first quarter of the 2019 fiscal year, with an expected profit shortfall in the range of $5 billion to $9 billion. The company is a global tech behemoth and the news not only sent its shares downward, but affected the entire global tech sector and broader equities in the ensuing day of trading.
Cook's explanation merits some focus:
While we anticipated some challenges in key emerging markets, we did not foresee the magnitude of the economic deceleration, particularly in Greater China. In fact, most of our revenue shortfall to our guidance, and over 100 percent of our year-over-year worldwide revenue decline, occurred in Greater China across iPhone, Mac and iPad.
The anticipated Greater China issues that Apple is encountering could be due to many structural factors, including the maturation of indigenous Chinese competitors in the smartphone and other portable device space (Apple's primary profit drivers). Cook said as much: "Lower than anticipated iPhone revenue, primarily in Greater China, accounts for all of our revenue shortfall to our guidance and for much more than our entire year-over-year revenue decline." Commentators immediately pointed out Apple's higher-than-previous-generation pricing for its current iPhones, which have alienated many consumers in Asia.
But how much of this is due to the ongoing trade war between the United States and China, which has presented Apple's existing supply chains with immense risk and increased costs? The answer isn't clear. Apple's slowdown comes at a time of what appears to be a cyclical slowdown in global growth—and certainly in China. But all else being the same, the uncertainty caused by Trump's trade war with China, despite the ongoing light "truce", is being blamed. Time will tell if Apple—and other brands—will weather the storm, but early indicators are not promising.
Bottom Line: Apple's first earnings warning since 2002 is being seen as a harbinger of a tumultuous 2019 for global markets, spurred primarily by concerns coming out of China.
South Asia.
On December 30, as many as 100 million eligible Bangladeshi voters went to more than 40,000 polling stations around the country to cast their votes in the country's hotly anticipated 2018 general elections. The result was unsurprising: an overwhelming victory for the incumbent Awami League, giving Prime Minister Sheikh Hasina a renewed mandate with the League taking a whopping 96 percent of all available seats in parliament.
The united opposition coalition, the Jatiya Oikya Front, claimed that votes had been rigged and there were outbursts of political violence around the country. Kamal Hossain, Hasina's challenger as leader of the opposition, called the conduct of the elections "farcical." Chief Election Commissioner K.M. Nurul Huda has ruled out a re-do on the election.
The election marks yet another step back in the country's slow—but easily perceptible—democratic backsliding. M Niaz Asadullah and Antonio Savoia contextualized the circumstances of the election in The Diplomat:
Since the start of the election campaign on December 10, opposition leaders in Bangladesh have come under attack almost on a daily basis. According to local and international media, some campaigning opposition candidates have been publicly beaten by ruling party cadres or sent to jail on false accusation. As many as 21,000 opposition leaders and activists were arrested since the announcement of the election schedule. Ruling party miscreants torched opposition campaign offices, attacked female opposition contestants and accosted a motorcade including Hossain. There are allegations of rampant violation of electoral codes.

Instead of ensuring a transparent election, human rights groups have accused the election commission of doing the opposite: Putting up restrictions on election day coverage, such as live cast from voting centers or cellphone recording of irregularities. These, critics argue, are part of a coordinated strategy from the incumbent government to weaken the conditions for a free and fair election.
The United States and the European Union expressed concern about violence around the general election and called for irregularities to be investigated, but otherwise, Hasina's government has been mostly praised for its economic performance if nothing else. The story in Bangladesh right now is an old one: democracy declining as economic performance remains upward-sloping. For now, accusations of the country having effectively become a "one-party democracy" are becoming truer than ever.
Bottom Line: Bangladesh's recent general elections underlines its continued democratic backsliding under the Awami League.
Elsewhere: For a great overview of the state of receding democracy across South Asia, I'd recommend Paul Staniland's new essay for Foreign Affairs.
Southeast Asia.