Japan after Abe; China-Myanmar projects; Indian economy
The Big One.
High-altitude, high-stakes competition.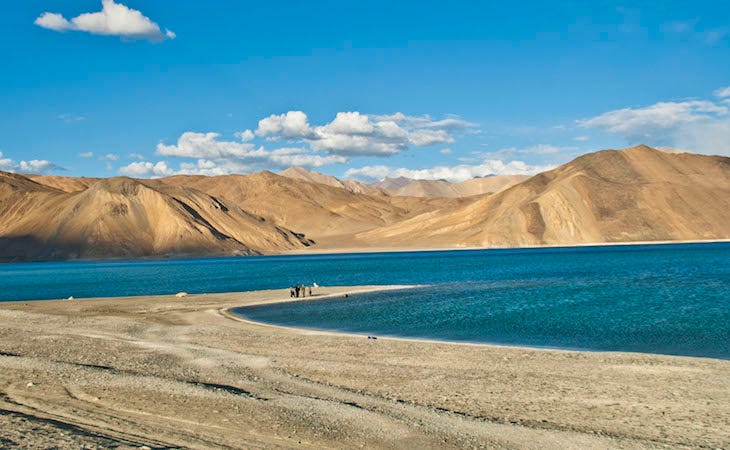 Author's Note: It's good to be back, readers. Apologies for the hiatus as I transition into a new role at The Diplomat as editor-at-large. This newsletter will continue, but there'll be a greater emphasis on connecting readers to the excellent analysis that we have ongoing at The Diplomat. 
Between October 20, 1975 and June 15, 2020, no Indian or Chinese troops died along the two countries' disputed border. That changed on June 15, when 20 Indians and an unknown number of Chinese soldiers were killed in a brawl. In recent days, the situation has heated up again, with another reported Indian casualty, ending a 76-day period without any deaths. As Ajai Shukla reported recently, Nyima Tenzin of India's Special Frontier Force (SFF), an elite border unit, was killed in a shadowy operation. 
The tactical situation around Pangong Tso—one of the many simmering standoff points along the Line of Actual Control in Eastern Ladakh—has changed following Indian moves in recent days. Indian forces have assumed control of the heights on the southern bank of the lake, apparently catching the PLA off-guard and drawing protest from China. 
As Bloomberg reports, citing Indian officials, "In what they called India's first offensive move since the conflict began in May, thousands of soldiers climbed up mountain peaks for about six hours to claim the vantage points along the south bank of Pangong Tso—a glacial lake roughly the size of Singapore." 
"The action was taken to counter what India saw an intrusion by Chinese forces, the officials said, asking not to be identified due to rules on speaking to the media." According to Times of India, the Indian Army has also consolidated positions on the north bank, overlooking the first and second "Fingers" (mountainous outcroppings) at the lake. 
Over at The Diplomat, Abhijnan Rej, our new security and defense editor, takes a look at the recent operations and the increased stakes in Ladakh. "Indian actions early this week mark a turning point in the ongoing crisis," he observes. To many, much of what has happened in Eastern Ladakh over the past four months reminds one of the events leading up to the 1999 India-Pakistan Kargil War, but in slow motion—and with added complexity. For India, the PLA is a better equipped adversary than Pakistan in 1999, of course, and New Delhi still has to contend with shortfalls in equipment, even while its own manpower is quite favorable along the Himalayan border. 
For now, the India-China border remains incredibly tense. We may be in for a long, bitter winter as Indian and Chinese troops attempt to preserve their gains in Ladakh while talks continue at the diplomatic and military levels.
Diplomat Risk Intelligence.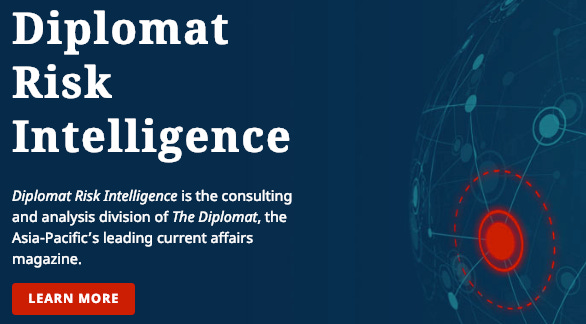 Diplomat Risk Intelligence offers you dedicated access to an exclusive network of subject matter experts versed in geopolitical, security, economic, and political trends covering the wider Asia-Pacific region. To learn more, click here.
East Asia.
Declassifying old assurances. Earlier this week, the Trump administration moved to declassify U.S. President Ronald Reagan's "Six Assurances" to Taiwan. These have been an important component of the U.S.-Taiwan relationship in the aftermath of U.S. normalization of diplomatic relations with China.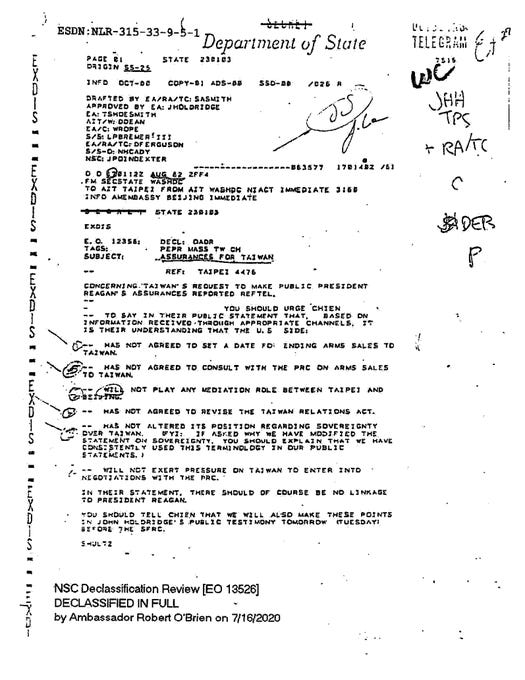 I shared a few thoughts on Twitter on why I think the administration made the move—and why it may even have merit in the context of ongoing shifts across the Taiwan Strait as China makes its hostile intentions toward Taipei clearer than ever. In short, it's about communicating resolve, but it's not so clear just how well this step contributes to overall U.S. efforts. But Taiwan does represent a rare area of bipartisan agreement in American foreign policy in Asia today.
Japan's post-Abe future. Japanese Prime Minister Abe Shinzo's resignation has opened up a new era in Japanese politics. Abe's well-known chief cabinet secretary, Suga Yoshihide, is the clear frontrunner and represents for many the "continuity" candidate. Other names include Defense Minister Kono Taro and former Foreign Minister Kishida Fumio, well-known Liberal Democratic Party heavyweights. Whatever happens, the biggest question for me is whether any of these men can come to enjoy the consolidated leadership Abe enjoyed—or whether Tokyo may be doomed to return to the days of revolving-door prime ministerial terms, as was the case between 2006 and 2012. For Japan's short-term economic and strategic future, the answer to that question will have important implications. Suga, if he comes out on top in the LDP's leadership election on September 14, may reign as a caretaker while the party navigates broader internal shifts.
South Asia. 
China's role in India's Northeast: Avinash Paliwal takes a look at China's role in fomenting unrest in India's remote northeast in a two-part series. Read part one here and part two here. Although linkages between Beijing and Indian militant groups exist, Beijing's ability to exercise assertive control over these groups—or use them as proxies—is limited, Paliwal argues. These groups can be described fairly as clients, at some level, of Chinese beneficence, but not proxies.
The dilemma for China and its Northeast rebel clients, then, is about how to maintain a mutually beneficial relationship. Unlike India's institutionalization of Tibetan fighters into its national defense fabric (as witnessed in Indian Army's recent deployment of 7 Vikas Regiment of the Tibetan-dominated Special Frontier Force against China's People's Liberation Army at the Pangong Tso), Indian rebels operating from China have no such value for Beijing. Baruah retains a modicum of value as an arms dealer who can channel illicit guns and money to the region. But his history of cheating groups such as the NDFB has bereaved ULFA-I of trust –  an essential but hard-to-find item in this space – among still-active groups.
India's big economic plunge. India's GDP declined by 23.9 percent in the year's second quarter—a shocking contraction for one of the world's largest emerging economies. The economic contraction, while not unexpected given the dramatic lockdown measures New Delhi took to mitigate the worst public health effects of the pandemic, is likely to persist, with headwinds still ahead. Worst of all, given India's rising COVID-19 case totals, the efficacy of the early lockdown measures have come under political scrutiny. 
Southeast Asia.
China-Myanmar projects. This week, Yang Jiechi, the head of the Central Foreign Affairs Commission of the Chinese Communist Party, stopped by Myanmar—the highest level visit by a Chinese official in some eight months. Sebastian Strangio, The Diplomat's new Southeast Asia editor, covered the trip: 
In separate meetings with Myanmar's State Counselor and de facto leader Aung San Suu Kyi, and its de jure President Win Myint, Yang sought assurances about the implementation of key Belt and Road Initiative (BRI) infrastructure projects. In particular, he focused on the slew of BRI projects gathered under the smaller umbrella of the Cambodia-Myanmar Economic Corridor (CMEC), a planned overland network of highways, railways, pipelines, and industrial zones intended to link China's Yunnan province to Myanmar's coast on the Bay of Bengal.
Asia Defense.
2020 China military power report. The U.S. Department of Defense's congressionally mandated report on Chinese military power was released Tuesday and it's the longest, most detailed iteration of that document ever. I encourage anyone interested in Chinese military modernization to read—or skim—the entire 200-page document, but I wanted to share a few highlights.
There are two major observations that jumped out to me. First, China's inventory of dual-capable (nuclear and conventional) intermediate-range ballistic missiles has grown year-on-year from 80 to 200, a remarkable leap. This exclusively encompasses the DF-26 IRBM, the sole missile of its class in the People's Liberation Army Rocket Force's inventory. The report has a lot to share on the DF-26's operational mode, including that the dual-capable system is designed for rapid warhead swapping. 
Separately, the report makes public the U.S. assessment that China's nuclear warhead totals are in the "low-200s." That's significant because the Trump administration has made nuclear arms control with China a major priority of late. The low-200s figure is also significantly lower than open source estimates, which had placed the arsenal around the high-200s (290, per my former Federation of American Scientists colleague, Hans Kristensen).
There are other significant topline observations worth mentioning here. The report, for the first time, includes analysis on the areas that the Department of Defense sees where China has either reached parity with or surpassed the United States.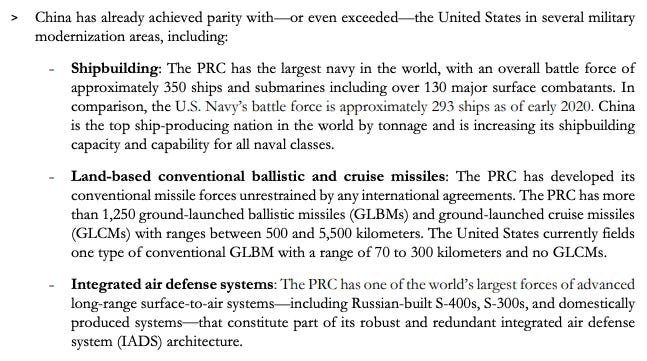 For a summary of the report, read The Diplomat's Steven Stashwick, who underscores the strategic context of China's military growth and modernization:
In 2017 Chinese President Xi Jinping set out two major goals for the PLA: to complete modernization by 2035 and become a "world class" military by mid-century, presumably prior to the People's Republic of China (PRC)'s centennial in 2049. The Pentagon isn't sure what exactly "world class" means in practice (the PRC may not either) but it is confident that China isn't building up its military for show, stating that "the CCP [Chinese Communist Party] desires the PLA to become a practical instrument of its statecraft with an active role in advancing the PRC's foreign policy, particularly with respect to the PRC's increasingly global interests and its aims to revise aspects of the international order."
Extras.
Space geopolitics and the Asia-Pacific. I spoke to Brian Weeden of the Secure World Foundation about the major players in Asia in space security and the drivers of competition in this critical domain. Listen to the episode here. 
The September 2020 issue of The Diplomat is here. This month, we explain Europe's rapidly hardening stance on China in a year that was supposed to represent a high-water mark for the relationship.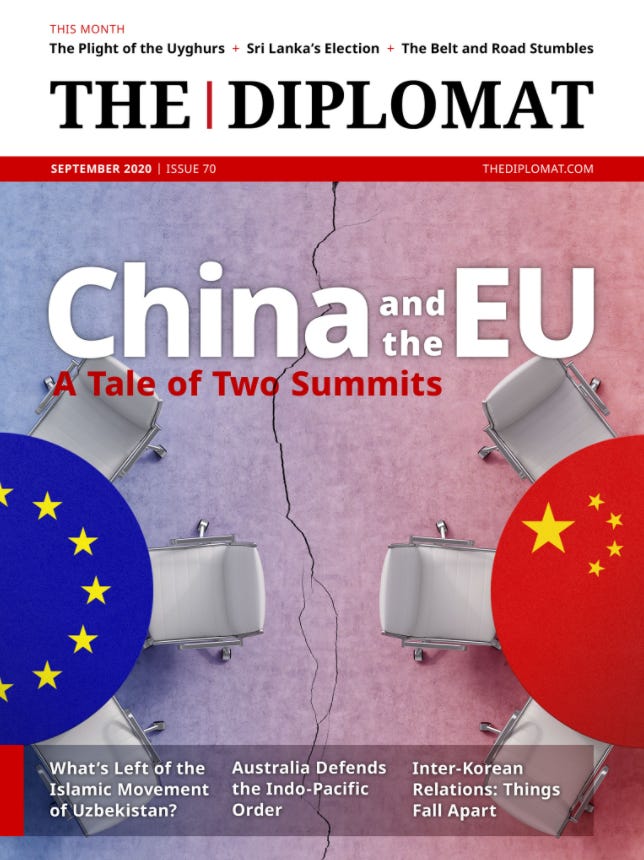 We also trace the rise and fall of the Islamic Movement of Uzbekistan and its role in global jihad, evaluate Australia's bold shift on defense in its latest strategic update, and look back at a tumultuous three years in inter-Korean relations. And, of course, we offer a range of reporting, analysis, and opinion from across the region.
This newsletter is written by Ankit Panda, senior editor for The Diplomat, and director of research at Diplomat Risk Intelligence. Please do feel free to reach out with comments, tips, and feedback at ankit@thediplomat.com and follow me on Twitter at @nktpnd and The Diplomat at @Diplomat_APAC.