Kim Jong Un's Quiet April: Exceptional, or Par for the Course?
China-Australia tensions; U.S. export controls; offensive cyber from Vietnam
The Big One.
Much ado about Kim Jong Un's health.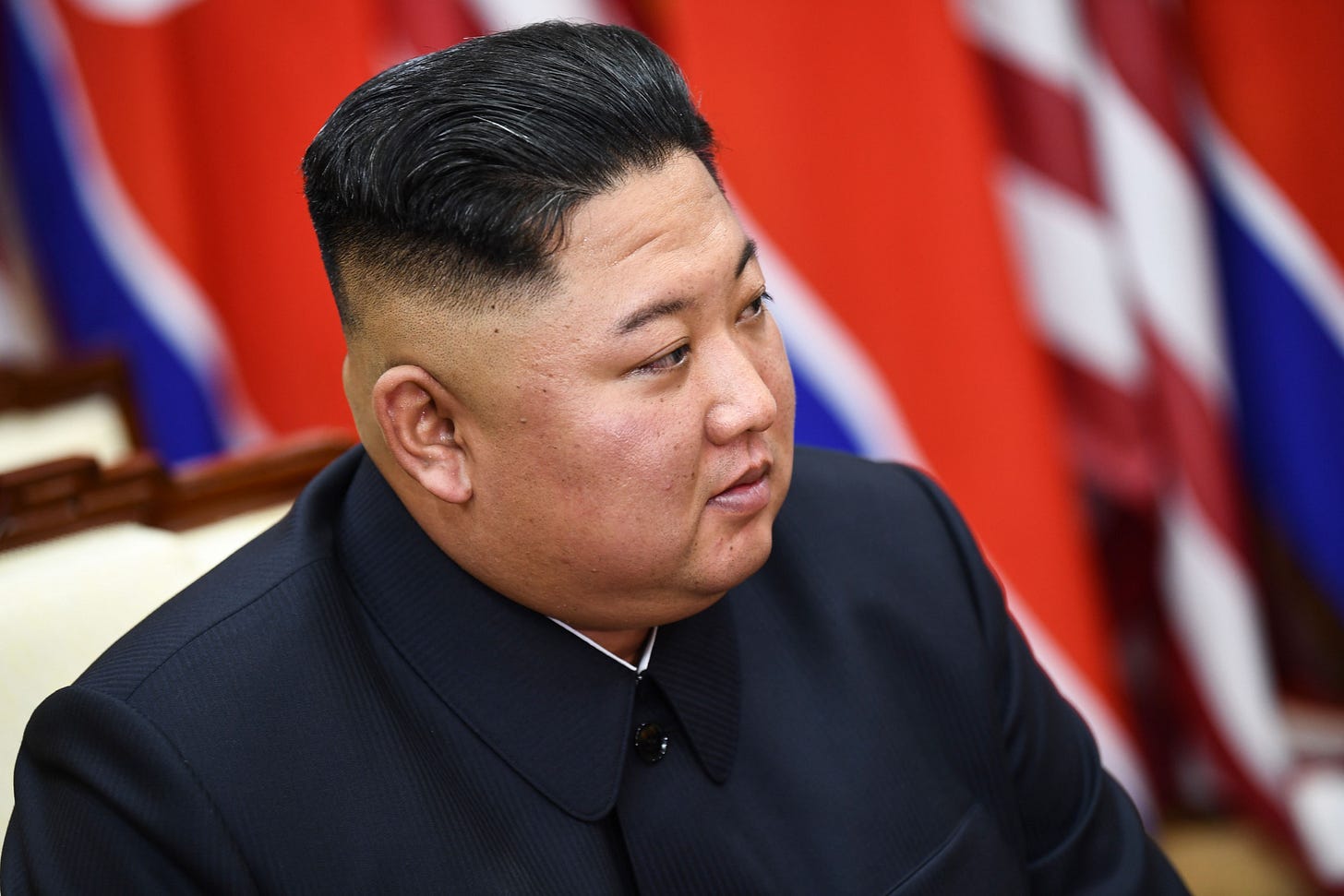 Kim Jong Un was last seen on April 11. As I write this, the North Korean leader has been absent from public view for nearly three weeks. That in itself isn't terribly unusual; Kim has had prolonged absences before. What is unusual, however, is that Kim remained incognito through North Korea's most important holiday—the April 15 "Day of the Sun" holiday to commemorate his grandfather Kim Il Sung's birthday—and also was nowhere to be seen at a reported April 14 coastal defense cruise missile test.
There has been plenty of ink spilled—by expert and inexpert commentators alike—about what Kim's absence might suggest about his health or the health of his regime. I'll try not to contribute to the speculation here; instead, it's worth dwelling on what we can know in the current situation. 
First, on the backs of a single-sourced report from the Seoul-based DailyNK suggesting that Kim had undergone a cardiovascular procedure and was in recovery, rumors exploded about his potential health. The story of the North Korean leader's health became a global top headline almost overnight, leading to questionable reports that he had died (including from celebrity gossip website, TMZ). 
I can't tell you whether Kim is dead or alive; we can look to the precedents for how the state propaganda apparatus handled his father and grandfather's deaths and illnesses to surmise that Kim probably is not yet dead. At least, we're probably not looking at North Korea pullinga Weekend at Bernie's scenario. Speculation has arisen that exactly something like this might be going on given that the Korean Central News Agency and Rodong Sinmun, North Korea's external news wire and ruling party newspaper respectively, have reported on Kim sending letters to foreign leaders amid his prolonged absence.
Second, what we do know is interesting enough and does lend some credence to the DailyNK account of a possible recovery from a surgery. Certainly, the basic premise of the original story is plausible: the morbidly obese Kim is known to be a compulsive chainsmoker and hardly a picture of perfect health. As with many highly personalized dictatorships where the leader is a monolith, the leader's health can represent a tremendous single point of failure and risk.
Two bits of open source analysis published recently by colleagues over at 38North and NK News suggest that Kim is at his favorite coastal retreat at Wonsan, a city on the east coast of North Korea that has received tremendous and disproportionate economic development attention under Kim's tenure. First, 38North spotted Kim's personal train near his Wonsan compound in satellite imagery. Second, NK News' Colin Zwirko spotted a series of movements by Kim's personal yacht around Wonsan. 
The story that South Korean officials have presented so far is that Kim is alive and well. Moon Chung-in, an unofficial advisor to South Korean President Moon Jae-in on foreign affairs, noted that Kim was in Wonsan. We still don't know why exactly he's there and why he didn't make an appearance for his expected April 15 showing at the Kumsusan palace in Pyongyang to pay respects to his grandfather. One possibility may be related to COVID-19, with Kim perhaps having concerns about public appearances if the pandemic may have spread within the KPA's Guard Command (the elite unit that guards the Kim family) or among senior Worker's Party officials.
What Kim's disappearance has done in the meantime is unleash an explosion of speculation around what happens the day after his death. This is useful and important to consider in the case of a nuclear-armed monolithic dictatorship like North Korea. A lot of attention has zeroed in on Kim's sister, Kim Yo Jong, who has gained particular prominence in recent years as her brother's confidante. She has also increased her profile within the ruling Worker's Party. 
Other candidates for succession include Kim's older brother, Kim Jong Chol, but given that he was passed over by their father for the succession in the first place, he may not be next in line now. Kim Jong Un does not have any children old enough to inherit the supreme leadership just yet, prompting some analysts to consider the possibility of a Kim Yo Jong regency. More pessimistic takes have raised the possibility of a brutal power struggle, a familiar idea that also found currency during North Korea's previous two successions, both of which went off without a hitch.
If Kim is dead, we'll only find out when North Korea's state apparatus deems it fit. When Kim Jong Il died, it took two days for the information to emerge—and intelligence agencies in South Korea and the United States learned of his death when the rest of us did. If Kim's alive, well, we'll see him soon enough.
Bottom Line: No one knows exactly how Kim Jong Un is faring, but he appears to be at a familiar coastal retreat—possibly waiting out a bad COVID-19 situation, or possibly recovering from a health procedure or illness.
Diplomat Risk Intelligence.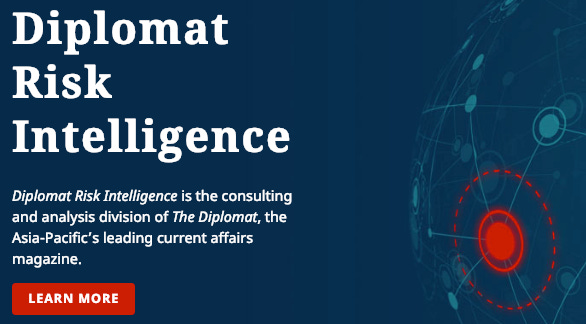 Diplomat Risk Intelligence offers you dedicated access to an exclusive network of subject matter experts versed in geopolitical, security, economic, and political trends covering the wider Asia-Pacific region. To learn more, click here.
East Asia.
Relations between China and Australia have continued to nosedive in recent weeks. According to Australian government officials, the Chinese government has threatened Canberra with economic measures if Australia continues to pursue an inquiry into the origins of COVID-19 within China. Cheng Jingye, the Chinese envoy, apparently suggested that China would look to boycott Australian exports, including wine, and even discourage Chinese students from studying in Australia.
The scandal has spilled out into the public. The Chinese embassy took to its website to condemn the reports, which it said have been "obviously leaked by some Australian officials," leading the Australian Department of Foreign Affairs and Trade (DFAT) to issue a statement:
DFAT notes with regret that the Embassy of the People's Republic of China has issued a statement releasing purported details of official diplomatic exchanges.

The department will not respond by itself breaching the long standing diplomatic courtesies and professional practices to which it will continue to adhere.

How foreign missions engage the Australian media are matters for those missions.
COVID-19 is quickly transforming China's overseas relationships, but the particular tension with Australia bears noting. Canberra and Beijing were entering 2020 with a high baseline level of mistrust and the pandemic appears to have deepened that considerably.
Dates for the 'Two Sessions': The so-called "Two Sessions"—the meetings of the Chinese People's Political Consultative Conference, or CPPCC, and the National People's Congress (NPC)—have been announced. The CPPCC will begin on May 21, with the NPC opening a day later. Both were delayed from their usual March dates in response tor the COVID-19 outbreak, and many observers were waiting for a rescheduling to fully complete China's reopening. 
China's plans for Central and Eastern Europe: Ivana Karásková, a China Research Fellow and a Project Coordinator at the Association for International Affairs (AMO) in Prague, joined me on a recent episode of the Asia Geopolitics podcast to talk about China's geopolitical interests in Central and Eastern Europe. Karásková is one of the authors of a recent policy paper titled "Empty shell no more: China's growing footprint in Central and Eastern Europe." You can listen to our discussion here.
Keep an Eye On This: Calls for China to grant debt relief continue to grow as several of Beijing's debtors find themselves under COVID-19's fiscal crunch. Recent reporting in the Financial Times, citing a government think tank analyst, notes an interesting set of "rules of thumb" that China might use to think about this problem. 
US-China ties.
The U.S. Department of Commerce has announced new rules tightening exports to "military end-users" in China. In short, any entity in China—be it a private company or a state-owned enterprise—with direct or indirect links to the People's Liberation Army will find it impossible to access a large range of sophisticated U.S. technologies. The rules represent an expansion of older provisions banning such exports to Russia, China, and Venezuela specifically. The Commerce Department posted the updates in the Federal Register on April 28.
"Certain entities in China, Russia and Venezuela have sought to circumvent America's export controls, and undermine American interests in general, and so we will remain vigilant to ensure U.S. technology does not get into the wrong hands," U.S. Secretary of Commerce Wilbur Ross said on April 27.
The Commerce Department notes that the annual license applications for military end-user approval from Russia, China, and Venezuela are already very low. "BIS receives very few license applications for military end uses in China or for military end uses or end users in Russia or Venezuela (approximately two to three annually)," the rule listing notes.
Even as the U.S. and China appear set to press ahead with follow-through on their "Phase One" trade agreement, the Trump administration isn't letting up on its bid to hermetically seal off critical technologies from the PLA's hands. 
Bottom Line: New U.S. export control rules targeting the PLA's access to U.S.-sourced technologies underscore the Trump administration's continued focus on great power competition through economic means.
In Case You Missed It: On April 30, the U.S. Office of the Director of National Intelligence put out a statement on behalf of the entire U.S. intelligence community: "The entire Intelligence Community has been consistently providing critical support to U.S. policymakers and those responding to the COVID-19 virus, which originated in China. The Intelligence Community also concurs with the wide scientific consensus that the COVID-19 virus was not manmade or genetically modified." The statement follows reports that the administration pressured the IC to look into the possible origins of the virus at a China-based lab. Australian intelligence officials have echoed those claims, suggesting that they too have found no evidence (U.S. and Australian intelligence share information as part of the Five Eyes arrangement).
Central Asia.
No COVID-19 in Tajikistan? The list of countries not affected by the ongoing global pandemic is short (definitionally, that's how a pandemic goes). One country that had yet to report any official cases through nearly the end of April was Tajikistan, a small Central Asian state north of Afghanistan. That changed on April 30, with Tajik authorities finally acknowledging 15 cases in the country.
Before that, however, The Diplomat's Catherine Putz took a deep dive into the Tajik government's official insistence on its COVID-19-free status with a skeptical eye. Tajikistan was certainly an outlier regionally. As Putz notes:
[N]eighboring Kyrgyzstan and Uzbekistan registered their first confirmed cases in mid-March. Along with Kazakhstan, which also announced its first coronavirus case in mid-March, all three countries swiftly moved to close borders and enforce lockdowns, curfews, and quarantines. Even before they'd marked their first official cases, much of Central Asia had taken precautionary measures. Kyrgyzstan extended its annual Chinese New Year border closure; Kazakhstan cancelled early March celebrations for International Women's Day and then Nowruz celebrations.
Governments across the Asian region have taken a variety of approaches to stemming the effects of the pandemic. Those that have flat-out denied any problem at all, however, are few and far between.Tajikistan couldn't continue its denials, apparently.
Bottom Line: Official Tajik denials of COVID-19 within the country's borders were untenable.
Asia Defense.
USS Barry conducts a FONOP. Even amid COVID-19, tensions in the South China Sea aren't letting up. If you've followed FONOPs for a while, you'll know that it's unusual for China to make announcements on their occurrence before the United States. The U.S. doesn't even officially comment on individual operations, leaving it up to intrepid defense reporters to ply their sources and make the fact of specific FONOPs known to the public. As a result, not all FONOPs are, in fact, publicly reported. A recent FONOP by USS Barry, an Arleigh Burke-class guided missile destroyer, targeting excessive maritime claims around the disputed Paracel Islands was announced by the People's Liberation Army's Southern Theater Command. I discussed the specifics here for The Diplomat. The Chinese side claimed that the U.S. warship was expelled from the waters around the Paracels, but reports have so far suggested that the crew of the Barry simply carried on with its operation without any particularly unsafe encounter with any Chinese vessel. Usually, Chinese warships trail American vessels conducting such operations in the South China Sea.
Nuclear risk pathways in Asia. I was very happy to have John Borrie and Wilfred Wan of the United Nations Institute for Disarmament Research (UNIDIR) on the Asia Geopolitics podcast to talk over nuclear weapons risks in the Asia-Pacific region. The three of us discuss a recent UNIDIR publication—to which we all contributed chapters—on nuclear weapons risks around the world. Listen to our discussion here (we cover U.S.-China arms control prospects, North Korea, and risks in southern Asia).
Offensive cyber and public health. A fascinating COVID-19 story that may have flown under your radar pertains to Vietnam's alleged use of offensive cyberattacks on Chinese public health authorities in the early days of the novel coronavirus' breakout in Hubei province. According to cybersecurity firm FireEye, Vietnamese state-backed hackers "carried out intrusion campaigns against Chinese targets" between January and April this year. The purpose of the intrusions was to "collect intelligence on the COVID-19 crisis." FireEye's outlook based on the Vietnamese case is as follows:
The COVID-19 crisis poses an intense, existential concern to governments, and the current air of distrust is amplifying uncertainties, encouraging intelligence collection on a scale that rivals armed conflict. National, state or provincial, and local governments, as well as non-government organizations and international organizations, are being targeted, as seen in reports. Medical research has been targeted as well, according to public statements by a Deputy Assistant Director of the FBI. Until this crisis ends, we anticipate related cyber espionage will continue to intensify globally.
To my knowledge, this is the first case of a state making use of offensive cyber means to seek intelligence to inform its public health response. Vietnam's broader mistrust of China—and perhaps a degree of understanding in Hanoi about how the Chinese one-party state operates as a fellow one-party state—may have paid off. Vietnam has posted one of Asia's most remarkable COVID–19 responses—particularly when considering the size of its population. 
Extras.
COVID-19 at The Diplomat:We're happy to note that ongoing coverage and analysis at The Diplomat of the COVID-19 pandemic in the Asia-Pacific is paywall-free for all readers. Access the latest in our coverage here. COVID-19 coverage at The Diplomat is presented by Diplomat Risk Intelligence. Learn more about DRI here. 
Don't Miss the May 2020 issue of The Diplomat's magazine.
This month, we look back at the first term of Taiwan's President Tsai Ing-wen in order to understand what hurdles await in her second term.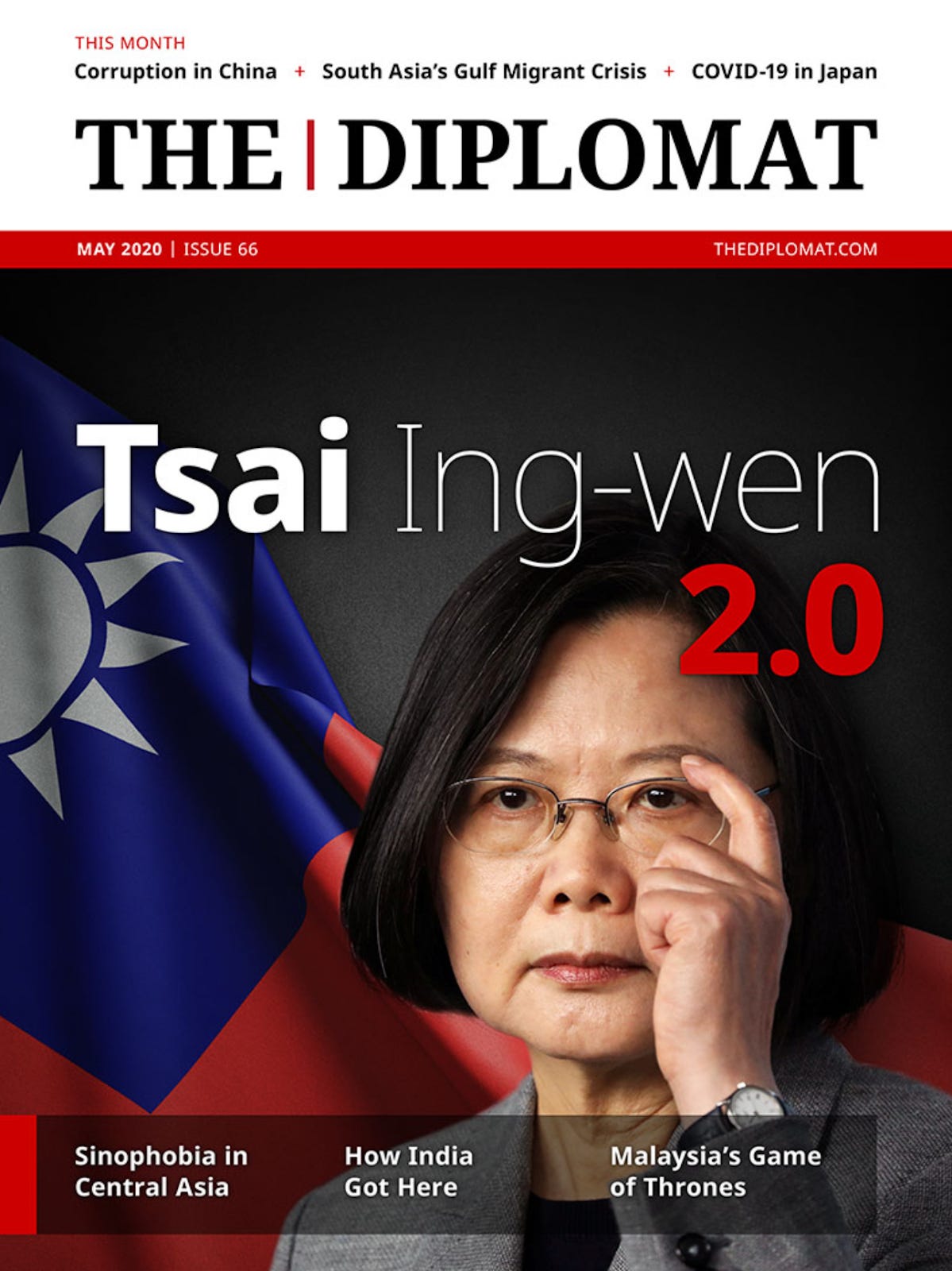 We also analyze the scope and limits of Sinophobia in Central Asia, probe the roots of India's surging Hindu nationalism, and retrace the political skullduggery that toppled Malaysia's Pakatan Harapan government. And, of course, we offer a range of reporting, analysis, and opinion from across the region.
This newsletter is written by Ankit Panda, senior editor for The Diplomat, and director of research at Diplomat Risk Intelligence. Please do feel free to reach out with comments, tips, and feedback at ankit@thediplomat.com and follow me on Twitter at @nktpnd and The Diplomat at @Diplomat_APAC.