Peace Is Easier Said Than Done in Afghanistan
The U.S.-Taliban 'leap day' deal is proving difficult to see through, even as the Afghan government tries to move forward.
The Big One.
Afghanistan has several challenges ahead.
Along with much of Central Asia, Iran, and parts of the Middle East, Afghanistan celebrates the Nowruz New Year festival this week. Nowruz is a time to celebrate springtime, rebirth, and new beginnings. In the aftermath of the historic February 29 U.S.-Taliban deal, it certainly has felt as if Afghanistan is due to see the start of a new era in its history. Taliban leader Mullah Abdul Ghani Baradar sat down next to Zalmay Khalilzad, the U.S. peace envoy, in Doha, Qatar, that day and the two signed an agreement that appeared to hold the key to ending almost 19 years of continuous war. 
If you missed it, the contours of the deal are fairly straightforward, even if the details are not. The United States has agreed to gradually withdraw its forces in Afghanistan over a period of 14 months provided that the Taliban prevent terrorist groups, including al-Qaeda, from using territory under their control to stage operations or attacks. 
The Afghan government, which wasn't party to the deal, has assented to its existence, but what has become clear in the three weeks since the signing ceremony is that implementation won't be easy. While the United States might be able to leave Afghanistan, the Afghan people themselves might not find the peace they seek too easily.
Two major issues deserve attention. The first pertains to a prisoner release that had been agreed as part of the deal. One of the reasons the Taliban agreed to the February 29 pact was because it included a provision for the release of up to 5,000 prisoners held by the Afghan government. 
Kabul has been circumspect about this provision, with President Ashraf Ghani initially reticent about releasing any prisoners, but eventually agreeing to release 1,500 in a staggered manner. One logjam now is that Ghani refuses to budge further until the Taliban begin talks in good faith with the Afghan government; the Taliban have treated this as a no-go. Read The Diplomat's Catherine Putz on the U.S. approach to bridging this gap.
Meanwhile, violence persists in Afghanistan, even if it isn't directed by the Taliban at U.S. forces to keep the February 29 deal mostly intact. In the first few days after the signing, dozens of small-scale attacks carried out by Taliban fighters against Afghan forces took place, raising concerns that the group might have opportunistically used the opening with the Trump administration to engineer an American withdrawal that would leave Kabul more vulnerable than ever. Even as the United States was talking to the Taliban in the past, it was able to provide Afghan forces with close air support, intelligence, and operational assistance. Once withdrawal occurs, that much won't be possible. Critics of the American deal with the Taliban have drawn parallels to the Nixon administration's deal with North Vietnam, fearing a "Fall of Saigon" moment in Kabul in a matter of a few years, if not sooner, if the Taliban are able to overwhelm Afghan forces.
The Afghan government is under tremendous pressure to find a way to best manage its interests after the February 29 deal. What is looking clearer is that the Trump administration is ready to wash its hands of Afghanistan, hoping to file away the Leap Day Deal as a major foreign policy success—perhaps even something that can be touted in an election year. Trump had once promised as a presidential candidate to end U.S. overseas entanglements and keeping this deal alive will be presented to his base as a delivery on that promise.
For the Taliban, all of this presents a tremendous opportunity. If the group is able to avoid missteps that would assuredly invite an American rethink of the February 29 deal (such as a major, high casualty attack on U.S. and NATO forces), it might see great opportunity. The Afghan government continues to face several vulnerabilities as well, including the growing specter of a serious COVID-19 outbreak in the country and the lingering legitimacy crisis arising from the parallel presidential inauguration undertaken by former Chief Executive Abdullah Abdullah (who was deemed to have lost the September 2019 presidential election according to the country's election commission). 
If March 2020 marks a new start for Afghanistan, it certainly doesn't appear to be all that auspicious.
Diplomat Risk Intelligence.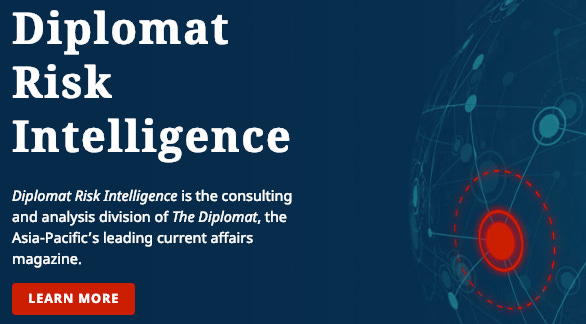 I'm excited to introduce a new offering from The Diplomat. Diplomat Risk Intelligence is the new consulting and analysis division of The Diplomat, the Asia-Pacific's leading current affairs magazine. To learn more, click here.
COVID-19 around Asia.
The Diplomat has featured excellent analysis and commentary on the rapidly developing COVID-19 crisis around Asia and the world in recent weeks. Below, I highlight some of the stories you might have missed elsewhere on how COVID-19 is affecting several Asian countries.
Nepal and COVID-19.
Brabim Karki, writing from Nepal, notes the disastrous economic effects COVID-19 is likely to have on the small Himalayan country. Nepal was relying on its tourism sector to boost overall GDP growth—a bet that appears to have been entirely lost now with COVID-19 shutting down tourist demand the world over:
Service industries like tourism and hotels are being hit especially hard. Tourism was expected to drive Nepal's economic growth and contribute greatly to the high growth target of 8.5 percent that the government had set for this year, but this industry tends to have little financial cushion. The contribution of the tourism sector to Nepal's economy stood at 7.9 percent in 2018, according to the report prepared by the World Travel and Tourism Council, which represents the private tourism industry and counts more than 200 company members.
Karki also writes on a couple other consequences, including the lack of Chinese workers traveling to Nepal to work on major infrastructure projects that Kathmandu had earlier agreed onwith Beijing. He also comments on the drop in remittances to the country as overseas Nepali workers are unable to continue working. 
COVID-19 and Southeast Asia.
The Diplomat's David Hutt comments on the political effects of COVID-19 in Southeast Asia—particularly as the region's overall problem with the pandemic is likely to grow worse in the coming weeks. Vietnam is notable as a regional outlier; Hutt argues the country learned something from its botched handling of the 2016 toxic spill of chemicals from the Formosa steel plant: 
So far, the Vietnamese Communist Party has been uncharacteristically transparent during the crisis, perhaps learning from its past mistakes, like during the Formosa toxic spill in 2016. But it has also stuck to its usual repression, harassing those who allegedly spread "fake news" and voice their criticism. One imagines, however, that repression will trump openness if the number of COVID-19 cases spikes in Vietnam and elsewhere in the region, especially if more locals become infected, and if healthcare systems feel the strain.
Elsewhere in the region, the political approach taken to managing the crisis is likely to mirror that favored by the Chinese Communist Party, including the probable suppression of public criticism:
Cambodia Prime Minister Hun Sen, who has fudged and fumbled his way through the crisis since January, has lashed out publicly at anyone who criticizes his government's handling of the situation or complains about the dire state of Cambodia's healthcare system. Malaysia now has a new government, after the more liberal Pakatan Harapan coalition fell apart last month, and the new ruling coalition is less likely to respect issues like free speech. Indeed, it has even suspended parliament until May. Philippine President Rodrigo Duterte doesn't need an excuse for repression, while Thailand and Myanmar's commanding militaries will instinctively strike if they sense rising dissent.
China goes official with conspiracies.
I commented last week on the remarkable centralization of conspiracy theories in China's official narrative-building about the COVID-19 pandemic. In an attempt to detract from the origins of the virus within China's borders, the Chinese Ministry of Foreign Affairs' new firebrand spokesperson, Zhao Lijian, took to Twitter (on his personal account) to imply that the virus may have been brought to China by the U.S. Army—a baseless conspiracy theory. Zhao is no stranger to controversy, having built himself a large Twitter profile when posted to Pakistan as the deputy chief of mission at the Chinese embassy in Islamabad. Now, he's taken a prominent role as the voice of Chinese diplomacy, bringing an acerbic tone to Beijing's diplomatic messaging.
Zhao's conspiracizing can be understood in the context of a broader attempt by China to distance itself from the disease—a trend that began before Chinese President Xi Jinping declared victory over COVID-19 in Wuhan, the central Chinese city that was the epicenter of the global outbreak:
In the weeks preceding Xi's moment in Wuhan, official Chinese propaganda channels had started to raise the notion that the disease may not have originated within China. On February 27, Zhong Nashan, a Chinese scientist involved in Beijing's national response, suggested the following: "Though the COVID-19 was first discovered in China, it does not mean that it originated from China."
Over at Axios, Bethany Allen-Ebrahimian has constructed a helpful timeline of the Chinese Communist Party's handling of the COVID-19 outbreak). Meanwhile, the Wall Street Journal, earlier this month, published a meticulously reconstructed account of some of the earliest cases in Wuhan and how they were managed by local Chinese authorities before it became clear that China had a major crisis on its hands.
COVID-19: Lessons from South Korea.
One of the most-read articles published by The Diplomat in the last month is Justin Fendos' look at the "good, bad, and ugly" of South Korea's COVID-19 management. Seoul's success in mitigating and containing the pandemic within its borders has received global applause since Fendos' piece, but his reflections on why South Korea succeeded—despite challenges—is well worth a read:
In simple terms, containing an outbreak is about identifying and quarantining infected individuals as quickly as possible, preventing them from perpetuating viral transmission. In this process, the first and most important component is having a standard operating procedure (SOP). As the Iranian outbreak has shown, there are many countries without functional SOPs, making an organized response much more difficult. Even the United States and Japan are exhibiting varying levels of confusion, making me worry they too may lack actionable containment plans.
With South Korea's planned assembly elections now weeks away, Fendos laments the politicization of the crisis within South Korea:
As a scientist volunteering to maintain SOP compliance at the local level, I am extremely disappointed by this politicization of the outbreak. I can say with some authority that the negative coverage has started to make my job, and the jobs of my many colleagues, more difficult. Seniors, the demographic most likely to support the [opposition] United Future Party and most likely to die from COVID-19, have recently started citing Moon's "incompetence" as an excuse to dismiss or question SOP procedures, making everyone less safe and containment of the virus unnecessarily more challenging.
The Moon administration's response has largely been met with approval, despite initial criticism of the South Korean president for not implementing a travel ban on Chinese travelers. A larger problem will lie ahead for the administration—like so many others around the world—when the economic crisis of COVID-19 becomes fully apparent. Troy Stangarone writes on the upcoming economic crisis in South Korea as a result of the COVID-19 crisis; managing the crisis will require bold fiscal and monetary responses.
A turn toward cybercrime from North Korea amid COVID-19? 
Writing originally for the Pacific Forum, Todd Wiesel comments that the North Korean regime, feeling the economic crunch of a total shutdown on trade with China, will turn to audacious cybercrime to raise funds this year to sustain its activities: "Kim Jong Un knows that his country cannot last like this for very long, and with so much of his power stemming from the support of Pyongyang's elite, we must prepare ourselves for their reaction. Learning from North Korea's past behavior, national security leaders should be less concerned about military action and focus their attention on shoring up their cyber defenses."
The country has yet to acknowledge any confirmed cases of COVID-19 within its borders, even as it purports to take the matter seriously as a question of "national survival," according to state media accounts. Last week, General Robert B. Abrams, the highest ranking U.S. military officer in South Korea, told journalists that he was "fairly certain" that COVID-19 had spread into North Korea despite Pyongyang having declared zero confirmed cases to date.
Extras.
If you're unlucky enough to find yourself in self-isolation these days, you might be interested in a couple of our recent podcast discussions. Prashanth Parameswaran and I have two new recent episodes. The first, picking up on some of the thoughts I shared in the last edition of this newsletter, focuses on the geopolitical and economic consequences of COVID-19 globally and in Asia. We spend some time discussing the particular blowback that the pandemic might have for the U.S.-China great power relationship. 
A second podcast covers recent developments in the implementation of the U.S.-Taliban February 29 peace agreement and the recent political tumult in Malaysia, which has seen a dramatic change in government after the collapse of the Pakatan Harapan coalition government that suddenly came to power in 2018.
If you're an iOS or Mac user, you can also subscribe to The Diplomat's Asia Geopolitics podcast on iTunes here; if you use Windows or Android, you can subscribe on Google Play here, or on Spotify here.
This newsletter is written by Ankit Panda, senior editor for The Diplomat, and director of research at Diplomat Risk Intelligence. Please do feel free to reach out with comments, tips, and feedback at ankit@thediplomat.com and follow me on Twitter at @nktpnd and The Diplomat at @Diplomat_APAC.