Trump's Impeachment and Asia
China's big parade; North Korea back at it; U.S.-Singapore partnership
The Big One.
As Trump faces an impeachment inquiry, what next?
In the final week of September, the U.S. Speaker of the House of Representatives Nancy Pelosi announced that there would be an impeachment inquiry into the conduct of President Donald J. Trump. Formal impeachment proceedings are not yet underway, but are likely. This is arguably the biggest story out of the U.S. political news cycle in some time. The impeachment inquiry is a direct result of revelations from an anonymous whistleblower within the U.S. intelligence community who alleged that Trump pressured Ukrainian President Volodymyr Zelensky to help him in his political crusade domestically against Joe Biden, the former vice president and current Democratic Party primary candidate. Since the whistleblower's complaint, more disturbing details about Trump using the power of his office for personal political gain have emerged. On October 4, Trump publicly called on Ukraine and China to investigate Biden. (Trump also had an inappropriate call with Australian Prime Minister Scott Morrison.)
Tumultuous political times—well, more tumultuous than usual—lie ahead for the United States. The inquiry will continue, likely spiraling into formal proceedings that would originate with the House Judiciary Committee. What does impeachment mean for U.S. foreign policy in Asia?
Broadly, the first order consequence of impeachment will be that it will take up nearly all of the energies of the president and his political staff at the White House. The foreign policy and national security bureaucracy of the United States will keep running and institutionalized diplomacy will continue, but big-ticket items—the trade war with China, denuclearization diplomacy with North Korea, and alliance management, for instance—will suffer. For instance, CNN's Will Ripley spoke to a North Korean source who had this to say:
The source adds the North Koreans "sense an opportunity" right now, perceiving President Trump as "politically vulnerable" and "starving for a win" — which they think could mean Trump is willing to be more flexible in negotiations to bring "tangible results."
That view will persist among American adversaries and friends alike. But is it a good bet? I wouldn't say so. If there's anything that can be said about Trump's behavior in both politically stressful and less stressful times is that it is erratic. While the logic of a beleaguered Trump caving in negotiations might have an appealing logic, it would be a mistake to imagine that what comes next can be predicted. Trump could just as easily sour on the North Koreans, for instance, lashing out in a pique of fury (see Nixon's mad days at the height of Watergate).
In Asian and indeed all world capitals, I suspect C-SPAN will be a mainstay as governments plan for what might come next. Impeachment may fizzle, it may be swift, or it may be drawn out; Trump may survive or he may not. Whatever comes next, Asian states will need to be ready for the consequences.
Finally, if you haven't yet, make some time to read the whistleblower's complaint. It's well-written and will go down in history as a significant document in the history of the American republic.
Introducing Diplomat Risk Intelligence.
I'm excited to introduce a new offering from The Diplomat. Diplomat Risk Intelligence is the new consulting and analysis division of The Diplomat, the Asia-Pacific's leading current affairs magazine. To learn more, click here.
East Asia.
On Thursday, North Korean state media announced that Wednesday's test of a ballistic missile involved the Pukguksong-3, a "new type" submarine-launched ballistic missile. The test took place in the waters off Wonsan, off North Korea's east coast.
According to South Korean authorities, the missile flew to an apogee of 910 kilometers, flying to a range of 450 kilometers. It flew on a southeasterly trajectory, landing in Japan's exclusive economic zone off Shimane prefecture. If launched on a normal trajectory, the missile would have a maximum range capability of some 1,900 kilometers—enough to range all of South Korea and all of Japan's four main islands from the center of the Sea of Japan.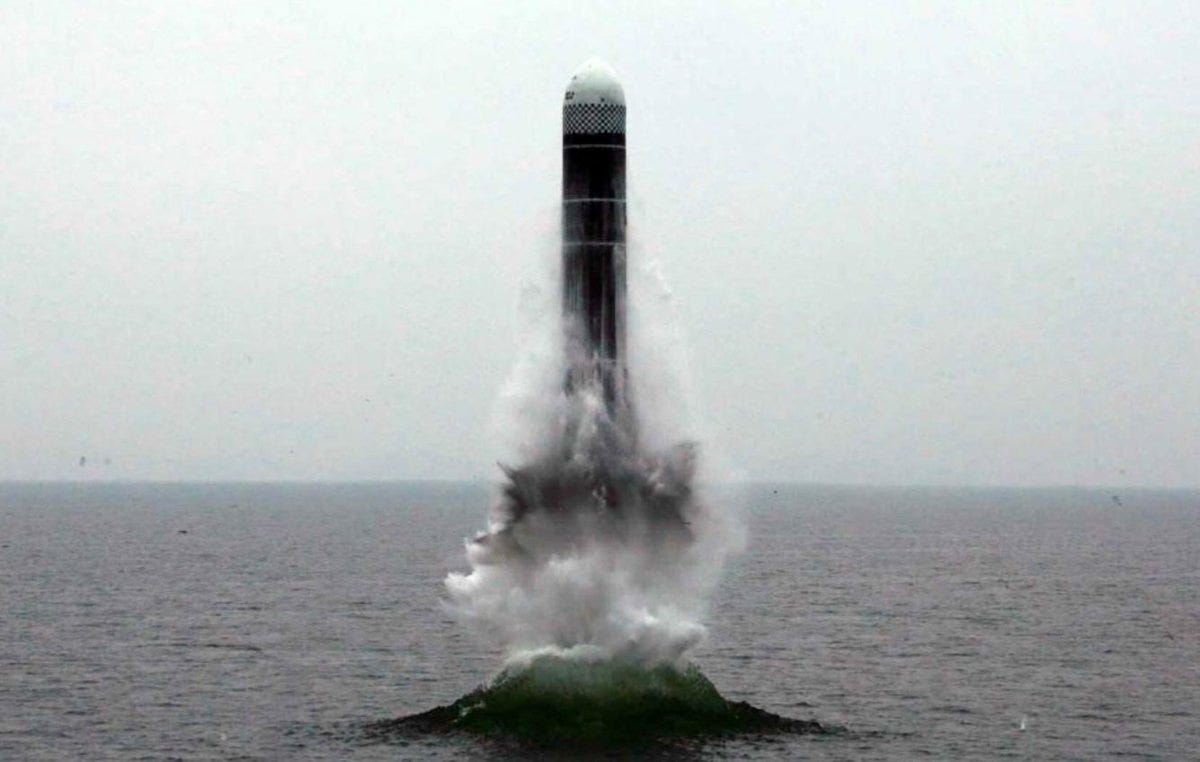 Wednesday's launch of the Pukguksong-3 marks the test of the longest-range-capable solid fuel missile ever seen in North Korea. It also marks the first test of a missile unambiguously designed to carry a nuclear payload since the November 28, 2017, test launch of the Hwasong-15 intercontinental-range ballistic missile.
The test follows months of the United States largely brushing aside North Korea's test of short-range missile systems, which nevertheless violate UN Security Council resolutions going back to resolution 1718 (2006). This test also comes after the departure of Trump's third national security adviser, John Bolton, a well-known hawk on North Korea.
In the meantime, working-level talks are kicking off between the U.S. and North Korea for the first time since the June 30 summit meeting between Kim Jong Un and Donald Trump at the inter-Korean Demilitarized Zone. The two sides will meet in Stockholm.
Bottom Line: With few costs to pay for his short-range missile testing campaign between May and September, Kim Jong Un is moving on to bigger and badder missiles.
On the Horizon: Sweden has released a new strategy paper on China's relationship with Russia, warning the European Union to keep this relationship in mind. The South China Morning Post reports here.
Southeast Asia.
In the final week of September, the United States and Singapore renewed the agreement that grants U.S. warships access to Singapore's port facilities, keeping in place an arrangement that's existed since 1990. The agreement extends U.S. access to Singaporean bases for another 15 years. Singapore, a U.S. strategic partner, plays an important role in granting the U.S. Navy a strategically located berth astride the Malacca Strait. As my colleague Prashanth Parameswaran writes:
For the United States, the renewal of the agreement reinforces one of the key U.S. access points in the Asia-Pacific at a time when some existing ones have been difficult to sustain and newer ones have been challenging to find, even as it advances its Free and Open Indo-Pacific strategy. And for Singapore, it sends a clear signal about its ability to balance security ties with the United States and China amid growing U.S.-China competition, with the renewal of the U.S. agreement coming just a few months after Singapore indicated it was moving forward on a revised defense agreement with China, which had led to additional scrutiny about the Southeast Asian state's alignments (despite the fact that U.S. security ties with Singapore far outpace what China currently has in place, and inroads with Beijing have also come amid significant concerns about aspects of its behavior). More broadly, as Lee himself noted in his remarks on the signing, it reaffirms Singapore's role in providing a way for Washington to deepen its engagement in Southeast Asia and the wider Asia-Pacific.
The renewal of the agreement underscores Singapore's continued strong security ties to Washington, despite concerns that the city state may have been vacillating between the U.S. and China in the Trump era. Certainly, at the Shangri-La Dialogue earlier this year, Prime Minister Lee Hsein-loong had sharp words on the nature of competition between the two sides. Speaking to the Washington Post's Ishaan Tharoor in September, Lee said the following on the U.S.-China relationship: "I think, from America's point of view, you will be right to conclude they are not going to become like you … But on the other hand, you have to ask yourself: Is it better for them to be like this and quite powerful, or is it better for them to be like they were when, during the days of Mao [Zedong], when they were much less prosperous or powerful but much more hostile and troublesome?"
Bottom Line: The U.S.-Singapore strategic partnership remains on strong ground with the renewal a basing access agreement.
Living It Up: The Diplomat's David Hutt reports on the life and times of Vietnamese Communist Party chief Nguyen Phu Trong. In poor health, Trong is one of the most powerful people in the country. Trong is in poor health and his death could upend Vietnamese party politics. Hutt writes: "The decision, in October 2018, to name Trong as president was most probably a stopgap designed to provide some stability within the Party. But if the worst was to happen to him now, it would trigger a power struggle the likes of which the Vietnamese Communist Party hasn't seen for decades."
Asia Defense.
On Tuesday, October 1, thousands of pounds of military hardware rolled down Beijing's Chang'an Avenue and through Tiananmen Square, as top officials of the Chinese Communist Party inspected them. Chairman Xi Jinping, the commander-in-chief of the People's Liberation Army, presided over the event, which marked a celebration of the 70th anniversary of the founding of the People's Republic of China in 1949.
Tuesday's parade was a major demonstration not only of national pride and military modernization, but a moment to underscore the loyalty of the People's Liberation Army to Xi and the Party. Like the summer 2017 parade at the PLA's Zhurihe Training Base, Xi was driven down the assembled line of parade units, carrying out a total inspection. When PLA honor guards presented the flags at the initiation of the event, the Party's flag preceded the PRC's national flag, followed by the PLA's flag. This was a celebration of nationalism, modernization, and resolve.
I've written up longer, detailed thoughts on the systems showcased here. What follows are a few excerpts. (I have plans to follow-up with a longer analysis on the DF-17 hypersonic boost-glide weapon and also the JL-2 SLBM.)
"The DF-41 is expected to become the cornerstone of China's strategic deterrence, bringing flexibility, responsiveness, and increased survivability to China's ability to assuredly retaliate to any nuclear attack."

"China seeks high assurances that its nuclear weapons will remain impervious to destruction in precision conventional strikes by its adversaries (mainly the United States) and that, after nuclear escalation, they can be used to retaliate successfully and penetrate missile defenses."

"The DF-17 represents a particular type of hypersonic weapon — the kind that most people mean when they use the word. Instead of a normal ballistic reentry vehicle or even a maneuverable reentry vehicle, the DF-17 uses a boost-glide vehicle."

"The WZ-8, for instance, appears designed to serve as an air-launched capability to gather intelligence and conduct damage assessments during conflicts (in addition to other possible roles)."

"The HSU001 LDUUV represents one the most interesting appearances at the parade. Its existence is unsurprising given longstanding rumors about Chinese interest in similar systems. What is unclear is the exact role it might play in the PLAN's strategy."
There's a lot more to be said about all of the new capabilities that were celebrated on October 1. China is telling the world—and especially Taiwan and Hong Kong—that it is not to be trifled with.
Bottom Line: China's armed forces are modernized, loyal, and ready to fight.
Don't Miss It: Sukjoon Yoon, a retired South Korean Navy captain, breaks down the OPCON transfer debate in South Korea, looking at six myths.
Extras.
A bit of a special announcement this time, but I'm very happy to announce that my upcoming book 'Kim Jong Un and the Bomb: Survival and Deterrence in North Korea' will be released next summer by Hurst Publishers and Oxford University Press.
The book covers the development of North Korea's nuclear forces under Kim Jong Un, the role of nuclear weapons in North Korean national defense strategy, and what lies ahead for Northeast Asia and the world in contending with a new regional nuclear power. It should be out June 2020 (UK and US preorders are up here and here respectively).
This newsletter is written by Ankit Panda, senior editor for The Diplomat, and director of research at Diplomat Risk Intelligence. Please do feel free to reach out with comments, tips, and feedback at ankit@thediplomat.com and follow me on Twitter at @nktpnd and The Diplomat at @Diplomat_APAC.