A fizzled summit; a new U.S. 'embassy' in Taipei; Timor-Leste's future
The Big One.
Trump and Kim: Who got what and what next?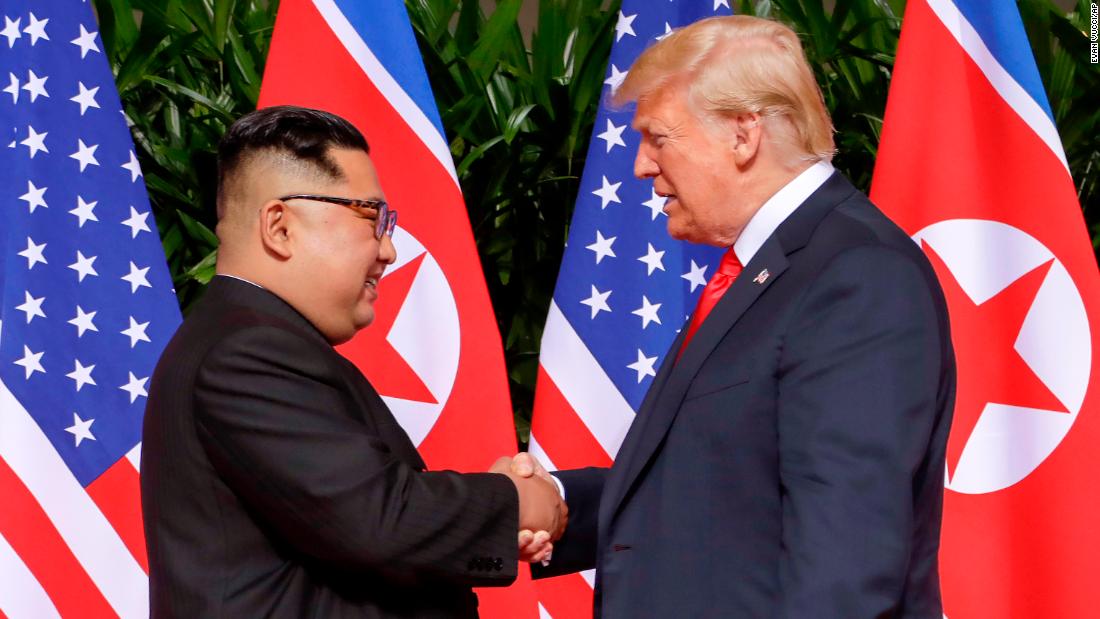 Well. The big summit finally happened. Donald Trump met Kim Jong Un and the two of them signed a joint statement with four operational clauses, committing the United States and North Korea to objectives each of them had managed to agree to in the past, without the necessity for a leaders-level meeting.
Given what we're learning in the aftermath of the summit about the immediate moments leading up to it, it's perhaps amazing that it ended up happening at all. What's amazing too is the tack Trump has chosen to pursue on his return from Singapore:
Just landed - a long trip, but everybody can now feel much safer than the day I took office. There is no longer a Nuclear Threat from North Korea. Meeting with Kim Jong Un was an interesting and very positive experience. North Korea has great potential for the future!
June 13, 2018
It should go without saying that this is not the case. North Korea continues to have the same number of warheads it did before the summit; its fissile material stockpiles continue to
grow at a non-negligible pace
. Even with Kim Jong Un's decision to dismantle the Punggye-ri nuclear test site and to announce a moratorium on the testing of intercontinental-range ballistic missiles, his decision to call for the mass production of warheads and ballistic missiles during his 2018 New Year's Day address remains unchanged.
The summit was, as Clint Work writes at The Diplomat, "all flash, little substance." But we're entering a diplomatic process now, presumably. The Singapore declaration commits both sides to further talks. It's unlikely that those talks will head in a particularly productive direction given the fact that Washington and Pyongyang already can't seem to agree about what they agreed to. U.S. Secretary of State Mike Pompeo has suggested that the phrase "complete denuclearization" in the Singapore declaration implies the "complete, verifiable, and irreversible" denuclearization. Meanwhile, North Korea has said the United States has committed to providing sanctions relief. On top of all this, we have a mysterious North Korean concession on a missile engine test stand.
The bigger takeaway from all this may be the normalization of North Korea's nuclear status. Kim too has put an end to "maximum pressure" with his diplomatic engagement in the first half of 2018. (China is already talking about sanctions relief, albeit in the context of North Korea's compliance with UN Security Council resolutions.) However this story ends, it won't be with North Korea surrendering its nuclear weapons.
Northeast Asia.
It doesn't take Kim Jong Un to deliver significant news on the Korean Peninsula. Indeed, looking past the Trump-Kim summit, if you're interested in knowing just how well South Korean President Moon Jae-in might stick his bold diplomatic gambit with the North, look no further than the recent mayoral and provincial elections in the country, which saw Moon's Democratic (Minjoo) Party deliver a dominant result, even in parts of the country that were conservative strongholds as recently as early 2017, under former President Park Geun-hye. (The head of the opposition Liberty Korea Party resigned in the aftermath of the result.)
The result demonstrates that Moon may be poised to become the most significant South Korean president since the country democratized—not least because he's managed to initiate a peace process with North Korea before his first year in office was through. Popular support and a strong showing for the Democratic Party suggest that South Korea's progressive will simplify domestic obstacles to engaging North Korea in the short-term. (Though there's no shortage of problems for economic engagement with North Korea, not least of which are the 11 UN Security Council resolutions passed against it since 2006.)
Bottom Line: The winds in South Korean politics are firmly behind Moon Jae-in's sails. If his peace initiative falters in the coming months, it likely won't be due to domestic doldrums.
China.
Had it been any other week in Asia—one particularly without a historic summit between the leaders of the United States and North Korea—this story might have been at the top of regional headlines. The American Institute in Taiwan, the unofficial U.S. embassy on the island, was opened in an under-the-radar ceremony in Taipei, with no senior U.S. officials in attendance. (Rumors that John Bolton, a well-known proponent of Taiwan, would attend came up short.) The Taiwan issue will continue to heat up between the United States and China this year; Beijing is already doubling down on its offensive to diplomatically isolate Taipei, as the last issue of this newsletter highlighted. When Mike Pompeo, the U.S. secretary of state, visited China after the Trump-Kim summit, Chinese Foreign Minister Wang Yi asked him to ensure that the United States continue to abide by the 'One China' principle. He'd asked him to do so just a few weeks ago too, in late May. For more on the significance of the AIT in Taiwan, stay tuned for an exclusive analysis by our editor-in-chief, Shannon Tiezzi, in the upcoming issue of the magazine. (Subscribe here.)
Bonus insight: In a surefire sign that the renminbi might be maturing contra other emerging market currencies in terms of volatility, China's currency has held its value over other major emerging market currencies this year. In short: the yuan tracks the dollar's value better than many other Asian currencies today. That doesn't mean the People's Bank of China is out of the woods, but it's an encouraging sign for foreign investors looking to stake out RMB-denominated assets.
Bottom Line: There's no shortage of growing flashpoints between the United States and China under the Trump administration. While trade policy continues to be the big one, expect the U.S. approach toward Taiwan to take on greater salience.
South Asia.
Pakistan's powerful chief of army staff, Gen. Qamar Javed Bajwa, undertook a trip this month to Afghanistan, in what appears to be the recent ebb in tensions between Islamabad and Kabul—a relationship that's been as rocky as ever in recent months. Daud Khattak writes on the encounter in our South Asia section. Pakistan's military, with its general election just a little more than a month away, is seeking to cool down confrontation along both its troublesome eastern and western borders. In late-May, the director generals of military operations of both India and Pakistan met to affirm their commitment to avoid cease-fire violations along the Line of Control in Kashmir.
Bonus insight: Indian Prime Minister Narendra Modi's keynote speech at the Shangri-La Dialogue is one to read. An excerpt:
We will promote a democratic and rules-based international order, in which all nations, small and large, thrive as equal and sovereign We will work with others to keep our seas, space and airways free and open; our nations secure from terrorism; and our cyber space free from disruption and conflict. We will keep our economy open and our engagement transparent. We will share our resources, markets and prosperity with our friends and partners. We will seek a sustainable future for our planet, as through the new International Solar Alliance together with France and other partners.
I was at the Dialogue this year and the speech meant something different to nearly every interlocutor I spoke to about it, but it was a broad overview of why India is indispensable to the future of the Indo-Pacific region.
Bottom Line: Pakistan's military is seeking to cool down external threats as a fateful general election approaches. Watch for signs of the military putting its thumb on the scales.
Southeast Asia.
Timor-Leste is approaching an important moment of political transition, putting Southeast Asia's newest state in the spotlight. As David Hutt catalogs for The Diplomat:
It is almost certain, barring a constitutional calamity, that Taur Matan Ruak will soon be appointed the new Prime Minister of Timor-Leste. In recent days, news emerged that Ruak was named as the prime ministerial nominee of the Change for Progress Alliance (AMP), a coalition of three parties that won last month's general election. He must be officially appointed by the president (of an opposition party) who is thought to be waiting until the last minute to do so.
If you haven't been keeping up with Timor-Leste, the country held a general election in May 2018, less than 12 months since an earlier election that produced an unstable government. The country's politics have been in flux, but are now potentially poised for stability at last. Ruak is likely to follow through with his platform of progressive politic reforms while Xanana Gusmao, the country's first president, former prime minister, and a resistance hero, will continue to loom on the sidelines, advising Ruak.
Bonus: Philippine Defense Secretary Delfin Lorenzana's recent comments that the country is mulling a submarine capability drew attention, but remember that this is far from a new idea. The Diplomat's Prashanth Parameswaran offers caution.
Something to watch: Anti-Chinese protests aren't a novel development in Vietnam, but the latest round of demonstrations are worth keeping an eye on. Protesters have taken to the streets over a draft law on proposed special economic zones in the country that are perceived to favor Chinese investors.
Bottom Line: Timor-Leste's long-anticipated political transition following the May elections is showing signs of certainty at last.
Central Asia.
Kazakhstan's taking issue with China—carefully and quietly—about many ethnic Kazakhs who've reportedly been caught up in China's re-education camps in Xinjiang. The Diplomat's Catherine Putz outlines the scope of the problem:
By August 2017, reports indicated that dozens of ethnic Kazakhs had been detained in Xinjiang. A Kazakh student with a Quran app on her smartphone was detained at the border; members of a WeChat group discussing emmigration to Kazakhstan were detained; another student was detained after visiting relatives in Kazakhstan and a herder was detained for having "frequent contacts" with friends and relatives in Kazakhstan. By November, RFA had carried several troubling reports: quotas for the detention of Uyghurs and ethnic Kazakhs (3,000 per week, according to RFA's source); detention of ethnic Kazakh business owners; police-run re-education centers; teachers reporting students for "wearing 'Islamic' clothing and praying"; raids on ethnic Kazakh homes including confiscation of Qurans and prayer mats; and detention of 50 ethnic Kazakhs for watching a banned video of a world-class boxing match featuring welterweight Kanat Islam (a Chinese-born boxer who became a Kazakh citizen in 2011).
The response to the detention of ethnic Kazakhs in Xinjiang has yet to draw a public outcry in Kazakhstan, allowing Astana to chart its own course in raising this issue with China. It's a delicate diplomatic challenge for the country, which, like many in the region, sees the upside of good diplomatic ties with China on its economy, but anti-Chinese sentiment isn't entirely alien to Kazakhstan either, raising the prospect that this could turn into a bigger deal in due time.
Bottom Line: China's attempts to quash any semblance of distinct Uyghur identity in Xinjiang is causing a slow-but-sure ripple effect across borders, into Central Asia.
Asian Defense.
Asian—and non-Asian—defense officials came together at the start of the month at the Shangri-La Hotel in Singapore for the annual Shangri-La Dialogue. I was there this year, along with The Diplomat's Prashanth Parameswaran. We each offered separate reflections on this year's dialogue—read Prashanth's here and mine here. (If you missed it, check out our podcast reflecting on this year's proceedings here.)
The themes this year were largely unsurprising. Above all reigned the question of what exactly the "Indo-Pacific" is. Even with the Trump-Kim summit in Singapore then looming just days away, the Dialogue managed to a broad focus on other issues, ranging from the situation in Myanmar's Rakhine state, to the Philippines' lessons learned from last year's deadly siege of Marawi City, to China's militarization of the South China Sea, which has grown especially brazen in recent months.
Bonus: A shot of yours truly at this year's Dialogue, asking South Korean Defense Minister Song Young-moo if he concurred with analysis proffered by Chung-in Moon, an advisor to South Korean President Moon Jae-in, that it would be difficult for Korea to make the case for U.S. troops to remain in the aftermath of a peace treaty with the North.
His answer was short: he threw Chung-in Moon under the bus effectively and said his views did not reflect those of the Moon administration. With Trump's unexpected declaration that the United States would cease its joint exercises with South Korea—a statement yet to be fleshed out in any detail—we may yet see serious changes to the nature of the alliance. (The historical record, however, shows that this is not unusual; the U.S.-South Korea alliance has seen its fair share of drastic change.)
Bottom Line: Keep your eye on the Indo-Pacific context; it appears to be here to stay.
Extras.
One more thing on the summit: make sure you set a little time aside to watch the propaganda North Korea's Korean Central Television (KCTV) took away from Kim Jong Un's trip to Singapore. It's a remarkable video. Trump's faux pas moment of saluting a uniformed Korean People's Army officer got most of the headlines in the United States, but more significant in the long term might be the ease with which North Korean official media is showing the country's people the prosperity of 'soft authoritarian' and capitalist Singapore.
Watch this space going forward with Kim's 'new strategic line' taking shape.
Please do feel free to reach out with comments, tips, and feedback at either ankit@thediplomat.com and follow me on Twitter at @nktpnd and The Diplomat at @Diplomat_APAC.