Wuhan Coronavirus Panic Grips China and the World
How Southeast Asia sees the world; Trump to India
The Big One.
From Wuhan to the world.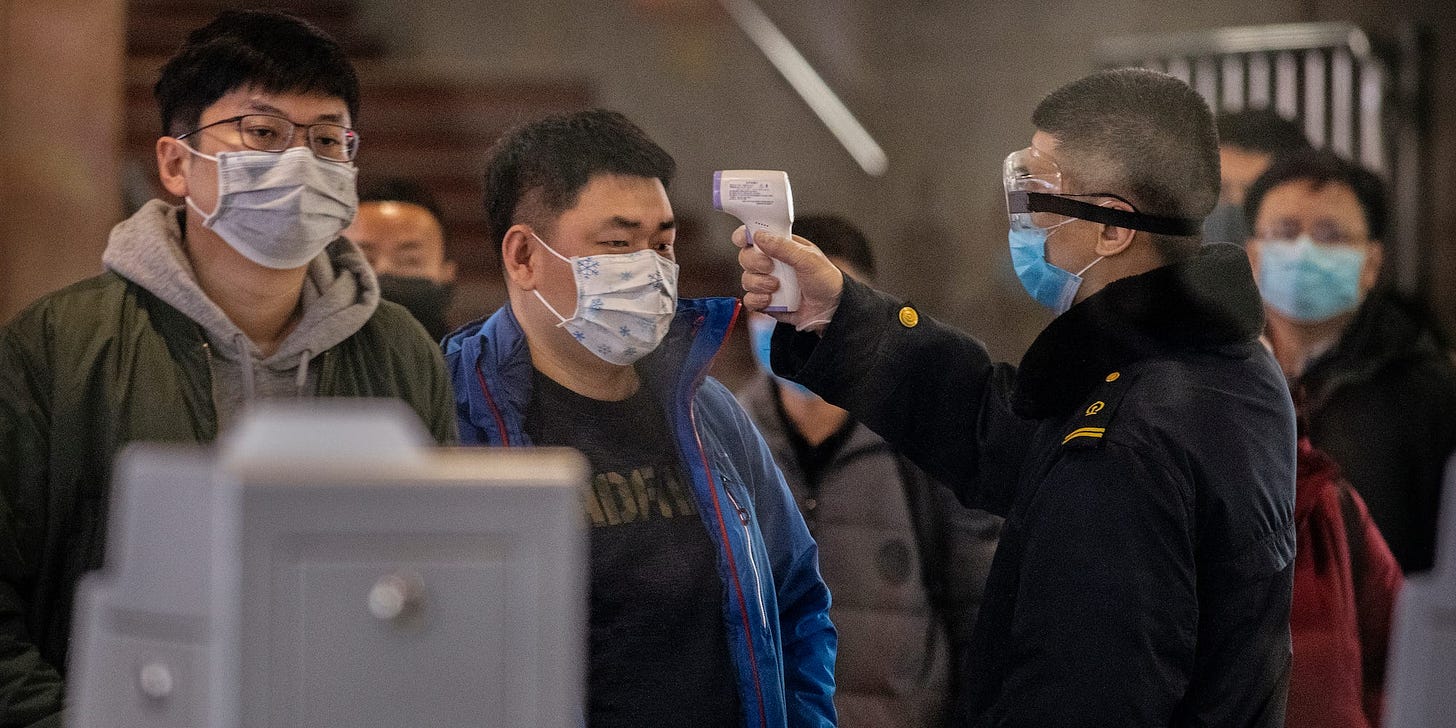 Things are moving fast with the Wuhan coronavirus (2019-nCoV, per the WHO) outbreak. The story has quickly bubbled to the top of the global agenda, making headlines around the world. Much still remains unclear about the origins of the virus,its exact incubation period, and threat to humans. The World Health Organization met for an emergency meeting this week, but reconvened to decide whether or not the virus merited the designation of a global emergency—something that would have serious implications on everything from air travel to national public health systems.
China, meanwhile, has taken drastic steps—unprecedented in modern global health policy—to attempt to stop the spread of the virus. On Thursday morning at 10 a.m. local time, the city of Wuhan—a city of 11 million and ground zero for the outbreak of the virus—was locked down. No one was meant to get out of the city. Huanggang, a second major central Chinese city, with a population of 7.4 million, was also locked down.
The efficacy of such drastic steps remains indeterminate. In a Q&A with the AP, a WHO representative suggested that the jury was out on how effective the lockdown would be at this point. Gauden Galea, the WHO representative in China, had the following to say:
To my knowledge, trying to contain a city of 11 million people is new to science. It has not been tried before as a public health measure, so we cannot at this stage say it will or will not work. If this is happening we will note carefully to what extent it is maintained and how long it can take. There are pros and cons to such a decision. Such a decision obviously has social and economic impacts that are considerable. On the other hand, it demonstrates a very strong public health commitment and a willingness to take dramatic action. It sends a message to Wuhan, to China and to the rest of the countries. It remains to be seen what its effect will be.
A final factor complicating the fallout of this outbreak is the pending Lunar New Year holiday in China, which normally leads to hundreds of millions taking to the air and to trains to move around the country. Wuhan, incidentally, happens to be a major central transportation hub. Just look at the following graphic from the South China Morning Post: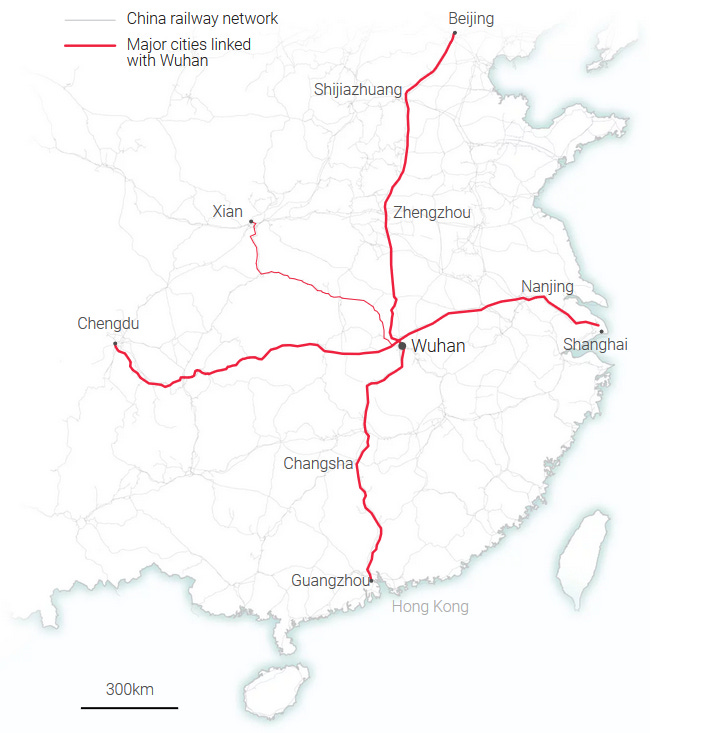 Chinese state media has reported on the totality of the preventive measures taken by the National Health Commission amid the outbreak.
The outbreak has quickly spread regionally, with cases reported in Japan, South Korea, Thailand, Taiwan, the United States, Vietnam, and Singapore. Over at The Diplomat, Tae-jun Kang writes about the South Korean reaction to the virus. Meanwhile, Nick Aspinwall draws attention to Taiwan's continued exclusion from the WHO and the implications for public health on the island. (Taipei has closed its borders to Wuhan residents as a precautionary measure.)
As of this newsletter's writing, infection figures from the virus remained fluid, but more than 650 cases had been confirmed around the world, with nearly 20 fatalities. Caixin, a China-based news portal, reported that Chinese authorities expect that infections could grow into the thousands. There's additionally widespread concerns that Chinese authorities, failing to learn the lessons of the early-2000s SARS outbreak, have continued to underreport the severity of the outbreak in Wuhan and elsewhere. 
Bottom Line: Amid dramatic shutdowns affecting millions, much remains uncertain about the Wuhan coronavirus. International health authorities continue to scrutinize the virus' spread and effects.
Diplomat Risk Intelligence.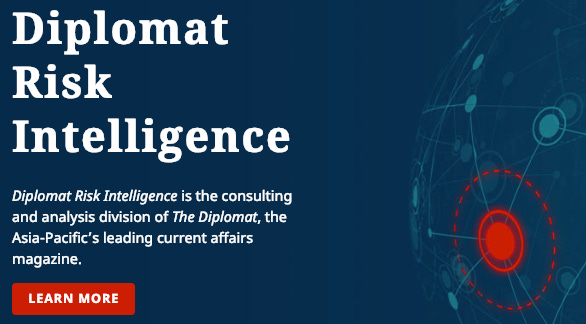 I'm excited to introduce a new offering from The Diplomat. Diplomat Risk Intelligence is the new consulting and analysis division of The Diplomat, the Asia-Pacific's leading current affairs magazine. To learn more, click here.
South Asia.
Namaskar Trump? U.S. President Donald J. Trump is reportedly heading to India in late February. While news of that visit remains unconfirmed by the U.S. side, Indian reports are treating it like a done deal. When asked during a press conference with Pakistani Prime Minister Imran Khan in Davos, Switzerland, this week if he we would visit Pakistan in addition to India, Trump said he wouldn't, but did not push back against the notion that he'd be going to India. Either way, watch this one—especially with word that India will look to recreate something along the lines of the "Howdy, Modi" event that Trump participated in back in September in Texas.
Southeast Asia.
The latest ISEAS-Yusof Ishak Institute survey of Southeast Asian strategic elites offers insight into how the region views regional affairs. The results offer an interesting snapshot (based off the views of 1,308 respondents from across the 10 member states of the Association of Southeast Asian Nations). A few highlights:
Japan comes out on top as the "most trusted" major power in Southeast Asia—a finding consistent with some former surveys in the region. India and China both exhibit low levels of trust, at around 16 percent of respondents saying that each can be trusted to "do the right thing." The United States has some 30 percent of respondents exhibiting confidence. Japan, meanwhile, sees 61.2 percent of respondents expressing confidence—a very significant show that Tokyo's efforts at putting down economic and political roots in the region have paid off.

The region is warming up to the "Indo-Pacific concept" slowly. In late-2017 and through much of 2018, talk of the Indo-Pacific in places like Washington, Tokyo, New Delhi, and Canberra was seen by Southeast Asian states as a challenge to concepts like ASEAN centrality. After some effort to assuage those concerns, and the issuing of ASEAN's own Outlook on the Indo-Pacific, it appears that skepticism is decreasing. 28 percent of respondents see the Indo-Pacific as a viable organizing principle for the region as opposed to 17 percent last year. (Note that the Indo-Pacific does come in several flavors; it does not mean the same thing to the United States and India, for instance).

Attitudes about China's importance to the region have not changed. Overwhelmingly, Southeast Asian elites recognize China as the most important and influential country in the region, with 79 percent acknowledging Beijing's economic primacy and 52 percent acknowledging its position as the most strategically influential country.

Finally, some good news for South Korea: Samsung, the Korean conglomerate, won a plurality of votes when it came to the question of who should provide 5G networking equipment to ASEAN member states. Chinese companies are preferred mainly in Laos, Cambodia, and Malaysia, according to the survey.
The above highlights are far from exhaustive. Read the full report here [PDF]. My colleague Prashanth Parameswaran also wrote about the survey, cautioning about the limits of such surveys:
More broadly, elite opinion is also only one aspect of regional perceptions, and a full understanding of these perceptions would also take into account how elite perceptions converge or diverge with popular perceptions, and the extent to which they are actually affecting policy. As a case in point, the complex interaction of these factors in the Philippines's approach to China under Rodrigo Duterte's presidency is an important reminder of this reality. And while it is important not to understate the importance of public opinion, it is important not to overstate it either amid other important factors such as power as well as how quickly these perceptions can change over time (with respect to the U.S. role, for example, a part of current perceptions are tied to U.S. President Donald Trump, and 60.3 percent of respondents said a change of leadership would shift their level of confidence).
In Case You Missed It: My podcast co-host Prashanth Parameswaran and I spent the most recent episode of The Diplomat's Asia Geopolitics podcast talking about Indonesia's predicament in the South China Sea, where its maritime boundary dispute with China in the Natuna Sea has flared up in the last few weeks. Listen here. 
Myanmar's drift? Hunter Marston writes that China's influence in Myanmar continues to grow, but the United States—and the West more broadly—can still compete:
Today, Western influence seems at an all-time low. Aung San Suu Kyi has defied her European and American critics by embracing autocrats like Hungary's Viktor Orban and China's Xi Jinping. But the United States still has important policy tools and untapped reserves of soft power that it can utilize if wielded skillfully. As I've written before, American companies and investors still enjoy major reputational advantage over Chinese counterparts. Young Burmese people still flock to the American Center in Yangon, the cultural and educational hub sponsored by the U.S. Department of State next to the American Embassy. In fact, Washington opened a gleaming new American Center in 2018 at a busy intersection just down the street from Aung San Suu Kyi's residence. There, Burmese can come to learn English, use computers, and access the library to study democracy and tools of civic engagement. It's a powerful outlet for the messaging of American values and can disseminate Washington's foreign policy goals among Myanmar society at a time when many Burmese resent U.S. criticism of Suu Kyi's government's refusal to condemn the military's crackdown on the Rohingya minority in Rakhine State.
Promotion
The New NK Pro: The ultimate resource for professionals working on North Korea
While the DPRK is 'unknowable' to many, there is more information available about the country than ever. But identifying the key signals – where one statement, leadership change, or weapons test can change the course of the future – is becoming more challenging by the day.
At a time of rapid change on the peninsula, NK Pro helps users cut through the noise to serve those who need quality, reliability, and timeliness the most: people on the frontlines of policy, business and research.
Asia Defense.
India's carrier plans push ahead. India's Ministry of Defense recently published a bulletin on the status of the ongoing Indigenous Aircraft Carrier (IAC) project. The update notes that the IAC's basin trials will happen this quarter. Sea trials are set to commence in mid-2020. Engine testing, meanwhile, is underway. "IAC construction is in an advanced state with all four Gas Turbines, main engines having been started, Power Generation Systems comprising of eight Diesel Alternators ready and trials of ship's major systems and auxiliary equipment in progress," the notice underscored. The first IAC, INS Vikrant, is currently under construction at the Cohin Shipyard in Kerala.
A new low for the Indian Air Force. Veteran Indian defense journalist Ajai Shukla points out that the Indian Air Force has reached what will likely be a low in its force strength: 28 squadrons. That's disappointing news if you're Indian, but encouraging since the future does look bright—in theory. "Starting from 2020, numbers will gradually rise. Three squadrons will be inducted this year, while only two squadrons would be withdrawn from operational service," Shukla writes. Over the course of this year, India is set to continue receiving units of its 36 French-made Dassault Rafale multi-role fourth-generation fighters. (Three were handed over last November.) The Indian Air Force has a "minimum sanctioned strength" of 39.5 squadrons; the current shortfall is drastic, leaving the IAF poorly equipped in the case of an all-out war.
DF-26 goes east. Hans M. Kristensen at the Federation of American Scientists (disclosure: I'm affiliated with FAS as an adjunct senior fellow)has located new intermediate-range Chinese DF-26 intermediate-range ballistic missiles at a base in eastern China. The missiles, which are capable of delivering nuclear or conventional payloads, are dubbed "Guam-killers" for their ability to hold the U.S. territory of Guam at risk. It's unclear how many DF-26 launchers are currently deployed in China, but the U.S. Department of Defense had in 2019 published an estimate saying that as many as 80 launchers were fielded. 
Extras.
Taiwan's election outcome. Taiwanese President Tsai Ing-wen decisively won a second term in office in elections earlier this month. Stas Butler, writing for The Diplomat, takes a look at how younger Taiwanese—those most likely to identify as "Taiwanese" rather than "Chinese"—are thinking about Beijing's influence and tactics.
This newsletter is written by Ankit Panda, senior editor for The Diplomat, and director of research at Diplomat Risk Intelligence. Please do feel free to reach out with comments, tips, and feedback at ankit@thediplomat.com and follow me on Twitter at @nktpnd and The Diplomat at @Diplomat_APAC.