'This Is Not a Drill': COVID-19's Economic Fallout
Is the COVID-19 economic malaise about to get worse before it gets better?
The Big One.
COVID-19 and the specter of a global economic crisis.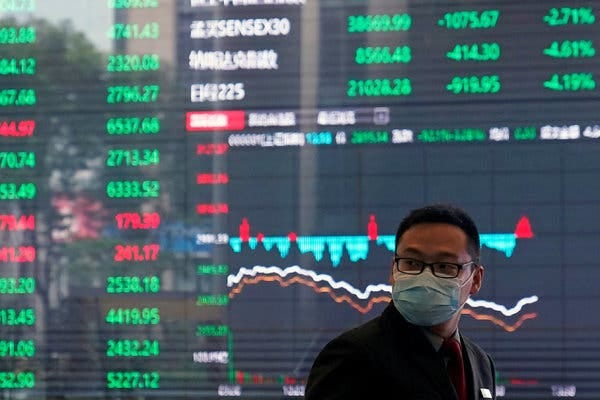 "This is not a drill. ... This is a time for pulling out all the stops." – WHO Director-General Tedros Adhanom Ghebreyesus, March 5, 2020.
This issue of the newsletter will be a little different than previous ones. I want to take some time to talk about the global spread of COVID-19, the disease caused by the novel coronavirus known as SARS-nCoV-2. I should start by stating that no one really knows exactly how bad things are going to get; given this, the answer is not to give in to widespread panic, but to think carefully about managing risk under conditions of uncertainty.
Anyone exposed to Asia—and also U.S. equity markets—may be asking about what exactly is driving both a) a significant downward correction that may be pointing toward a recession, and b) sharp volatility. The last time this newsletter addressed SARS-nCoV-2, it was still being treated as a localized epidemic in China; the "COVID-19" coinage hadn't arrived and even more remained unknown. A consequence of how the virus was covered initially was that global investors mainly anticipated supply-side shocks in China. This was far from insignificant; despite trade war manufacturing hedging, China remains the world's factory by and large. As a small bit of respite, the initial outbreak preceded the Lunar New Year Holiday, a time of depressed factory productivity anyway. It appeared that the market saw the added burdens of COVID-19—even with the dramatic shutdowns affecting Hubei province—as an adverse event that could largely be weathered by the world's largest China-exposed companies.
But it quickly  became clear that COVID-19 was trending toward the worse end of possible scenarios. Even as the WHO remains cautious about declaring the disease a pandemic, it is looking increasingly like the disease may have the potential to become the sort of once-in-a-100-years public health shock that sinks unprepared businesses. Billionaire philanthropist Bill Gates, writing in the New England Journal of Medicine, noted that "Covid-19 has started behaving a lot like the once-in-a-century pathogen we've been worried about." He counsels that evenwithout knowing the full extent of the virus' ability to cause real damage to human life and health—questions persist about its CFR, or case fatality rate—governments and businesses should be treating it like an epochal event.
Beginning in the final week of February, this appeared to sink in across the world. In economic terms, it became clear that COVID-19 wasn't just going to be a contained supply shock, limited to China, but that it was going to be an unrestricted shock to interlinked global supply chains and an even less restricted shock to global demand. As the virus arrived quickly and with devastating consequences to European and American shores and panic set in worldside, it became clear that the fundamental human behaviors that underpin all "normal" economic demand would be upended. That's why the U.S. stock market quickly shed more than 12 percent of its nominal value by the end of February and why a recovery appears to be a distant prospect at the moment.
In the midst of all this, it looks like monetary policy is not an answer to assuaging investor concerns because, fundamentally, the price of money is not the issue. The U.S. Federal Reserve's surprise rate cut of 50 basis points—the first since the financial apocalypse of 2008—thus had little to no effect on confidence, but instead took the U.S. closer to a negative interest rate policy, leaving the Fed with little room to maneuver if and when the COVID-19 panic stabilizes. In many ways, the Fed's move appears to have signaled to investors that the U.S. Central Bank—whose mandate, incidentally, is not concerned with the nominal value of stock indices, but with unemployment and inflation—expects COVID-19 to cut at the fundamentals of the U.S. economy. The Federal Open Market Committee observed—in a somewhat tone-deaf manner—that even as the "fundamentals of the U.S. economy remain strong … the coronavirus poses evolving risks to economic activity." Clearly, the scale of coronavirus panic has affected the most fundamental element of the U.S.—and global—economy: human confidence and demand.
That much appears to be apparent to the Bank of Japan's governor, Haruhiko Kuroda, who took a decidedly bleak tone this week. Tokyo's been facing off with SARS-nCoV-2 for a little longer than the United States—at least directly—and Kuroda says he expects serious damage to the Japanese economy as a result. "If the epidemic is prolonged, it could also affect production," he said. "We need to be mindful that the impact from the outbreak could be big."
* * *
I've been in Taiwan this week, watching the spread of global panic. What's been interesting in meetings here with business leaders is their thinking about what the Asian economic landscape might come to look like after the COVID-19 dust settles. One of the observations that I found most interesting was that many Taiwan-based manufacturers and suppliers of high-end components in the technical sector see COVID-19 as potentially accelerating a regional readjustment away from mainland China exposure more broadly. One supply chain analyst I spoke to observed that many Taiwan-based suppliers had, under the Tsai Ing-wen government's New Southbound Policy encouragement and organic concerns about the U.S.-China trade war, started to already look away from the mainland. While COVID-19 is causing a massive bloodletting in Taiwan as it is everyone else, there's a sense of optimism that this shock could spur a greater diversification of Asian supply chains. In a sense, the post-COVID-19 winners could be low-cost, high-value manufacturers in Southeast Asia and South Asia.
Given my epistemic hedging at the onset of this newsletter, it's probably best not to think too hard about what the post-COVID-19 world looks like, but there's a strong sense—at least here in Taipei—that it'll be a shock to much of what we've come to know about how the Asia-Pacific does business and supply chains.
In the shorter term, the question for many businesses in Asia—particularly small and medium enterprises—is survival. Consumer businesses are hard hit and many may find themselves unable to service existing debt if depressed demand persists. In Taipei, for instance, many of the city's most popular tourist attractions and shopping areas have been largely depopulated—and this is in Taiwan, one of the places that's been doing an excellent job generally containing COVID-19.
* * *
In the coming days and weeks, your top priority should be doing all you can to protect those most  vulnerable to the effects of COVID-19: the elderly and immunocompromised. This mostly boils down to washing your hands effectively. Here in Asia, there's massive social pressure to wear face masks and, even as masks are only useful once one is already sick, these are virtually everywhere. In the United States, the surgeon-general has expressed concern that panicked mask-buying could spur harmful shortages for healthcare workers, who need face masks to protect themselves.
The economic drag from COVID-19 is likely only getting started. As testing capacity increases around the world, there'll likely be more panic, particularly as other populous emerging markets in Asia are hit (think India and Indonesia). Additionally, things appear to be set to get much worse in the United States, where there is good evidence of undetected community transmission. As U.S. capacity for testing improves, there is likely to be a significant reaction to what will be perceived as a sudden spike in confirmed cases. No one knows exactly how bad this will get, but it's clear that we're far from reaching "peak COVID-19." In countries with a limited capacity for public health, such as many poorer, population-defense states in South and Southeast Asia, the human toll could be particularly dire. Economically speaking, we may be looking at a global cyclical bust—born not of debt malaise, but an epochal pandemic.
As events play out in the coming days and weeks, wash your hands, keep on top of the news, and don't panic.
Diplomat Risk Intelligence.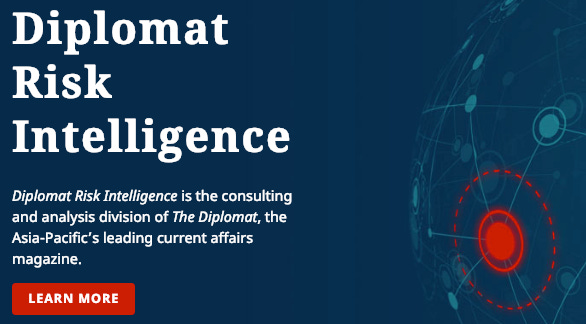 I'm excited to introduce a new offering from The Diplomat. Diplomat Risk Intelligence is the new consulting and analysis division of The Diplomat, the Asia-Pacific's leading current affairs magazine. To learn more, click here.
Reads of the week.
Thanks as always for reading the newsletter. Given the above analysis on COVID-19, I'll point to some of our ongoing coverage and analysis at The Diplomat that you really shouldn't miss.
Chinese military in the Philippines. My colleague Prashanth Parameswaran takes a look at fears of Chinese military personnel in the Philippines. 
Naturally, things are a bit uncertain after Duterte's decision to terminate the Visiting Forces Agreement with the United States, but, Prashanth writes, the latest fears are unverified and, ultimately, "it will be important for these occasional efforts to shine light on aspects of this to be followed through on so that we can get more verification of these rising fears."
This week, we saw another round of headlines spotlighting an aspect of this with comments by a Philippine senator. Senator Panfilo Lacson expressed concern that a good number of Chinese military personnel, numbering a few thousand by estimates that he had and had shared with Gordon as well, were currently in the Philippines for unknown purposes.

Per local media reports, Lacson said there may be an estimated "2000 to 3000" PLA members in the Philippines, with the possibility that they may have been in the country for some sort of "immersion mission" that could raise concerns. This came in the face of other concerns he had raised on illicit Chinese activities in the Philippines, including that around $446 million had been smuggled by 47 individuals into the Philippines in the span of five months, with Chinese money launderers establishing connections with government officials.
India under siege. Rajeswari Pillai Rajagopalan works to make sense of the impact India's ongoing inter-religious turmoil is likely to have on its foreign policy. Coinciding with U.S. President Donald J. Trump's visit to the country, New Delhi, the nation's capital, experienced some of the worst inter-religious violence in years, with scores of deaths, injuries, and massive damage to property. As Rajagopalan notes, this wasn't missed by world observers:
In an exceptional move, and a first for India, the Geneva-based Office of the High Commissioner for Human Rights (OHCHR) has said that it was planning to file an application on the CAA in the Indian Supreme Court. The UN Higher Commissioner for Human Rights Michelle Bachelet subsequently filed an Intervention Application against the CAA. The MEA responded to this by saying that the CAA is an internal issue of India and "no foreign party has any locus standi on issues pertaining to India's sovereignty."
She goes on to explore the consequences the internal strife is likely to have on India's regional and global policy. Countries are taking note of the exceptional turn within India's borders toward instability and violence.
Don't Miss It: On a recent edition of the Asia Geopolitics podcast, I had Aman Thakker on to discuss the trajectory of the U.S.-India relationship after Trump's visit to the country. Listen here.
Asia's women of the year. TIME Magazine's "Person of the Year" is widely regarded as influential. This year, the magazine has created 89 new covers to celebrate influential women across the years. The Diplomat's managing editor, Catherine Putz, highlights the women from or involved in Asian affairs. Read more here. 
Diplomat March 2020. Don't miss the new edition of our monthly e-magazine. This month, we evaluate the lessons learned from the Balakot strike, as seen from both Pakistan and India, and what that means for the next crisis.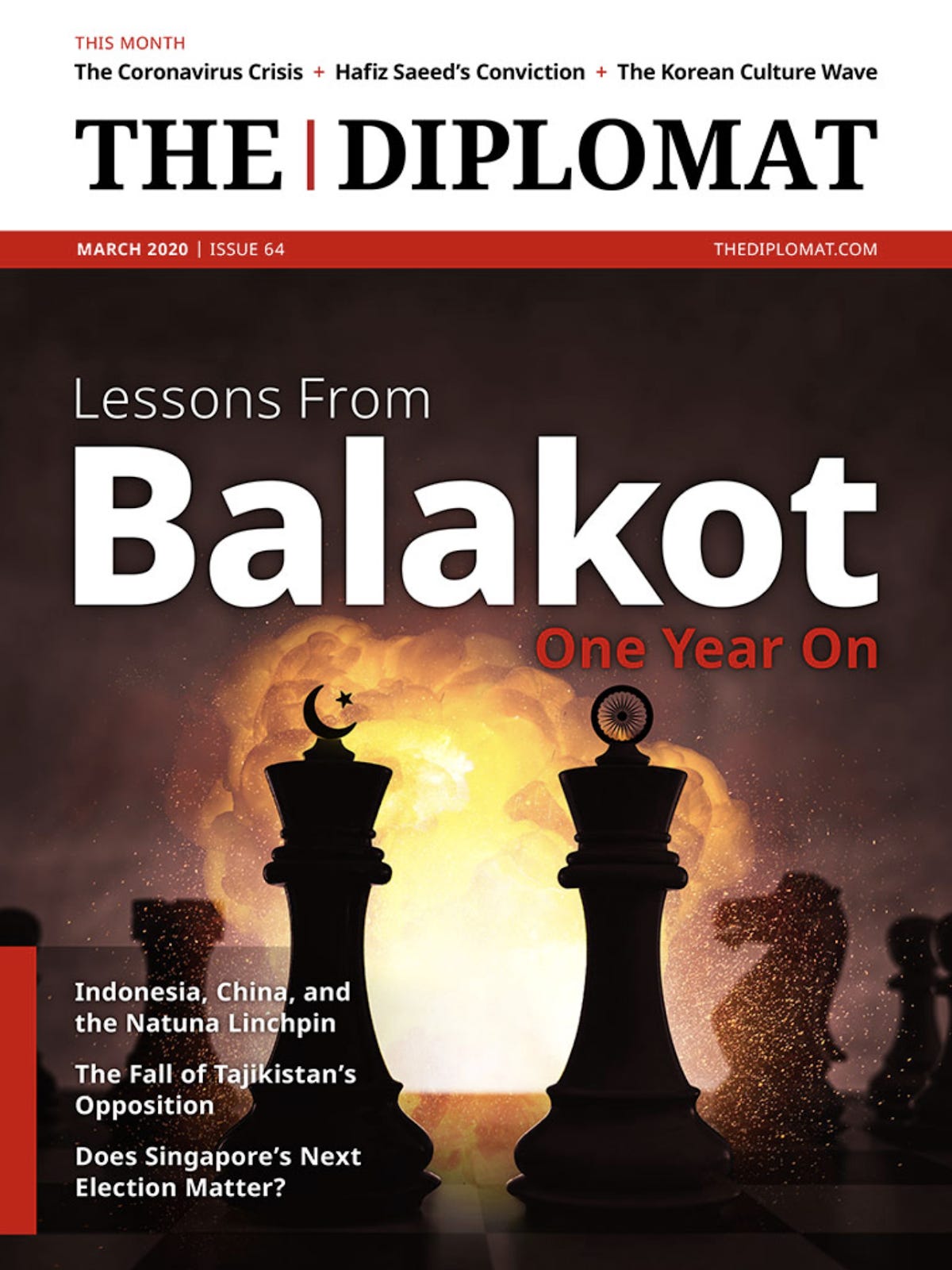 We also lay out China's and Indonesia's competing strategies in the waters off the Natunas in the South China Sea, retrace the precipitous fall of the Tajik opposition, and take stock of Singapore's political landscape ahead of the next general election. And, of course, we offer a range of reporting, analysis, and opinion from across the region.
This newsletter is written by Ankit Panda, senior editor for The Diplomat, and director of research at Diplomat Risk Intelligence. Please do feel free to reach out with comments, tips, and feedback at ankit@thediplomat.com and follow me on Twitter at @nktpnd and The Diplomat at @Diplomat_APAC.