Japan's plans for the Izumo; Uyghurs and Central Asia; Japan-Russia talks
The Big One.
Who told who what in Buenos Aires?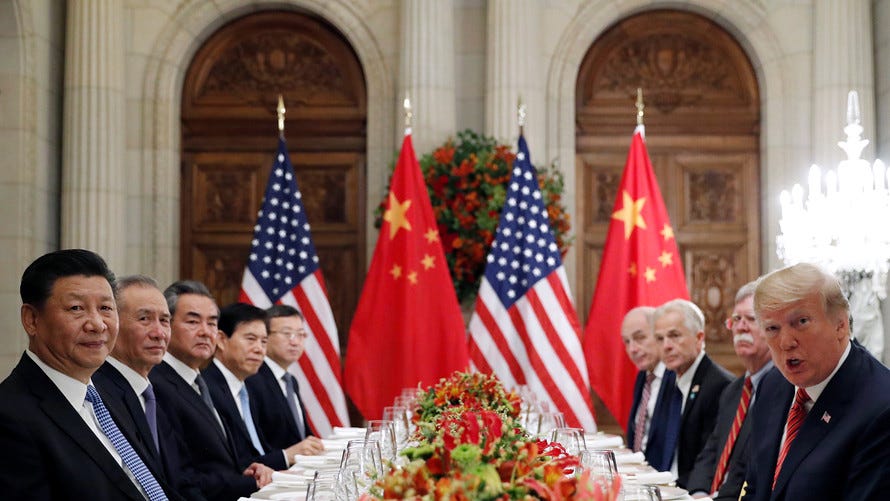 So, there's a truce in the U.S.-China trade war. Maybe?
U.S. President Donald J. Trump and Chinese President Xi Jinping met over dinner in Buenos Aires, on the sidelines of the Group of 20 leaders' summit, and both sides walked away claiming that they had reached a deal. Reporters on the site of the dinner reported hearing applause at the conclusion of the meal, suggesting at least a mutual satisfaction. The problem in the days since that dinner is that it's not clear if both sides share the same perception of what was agreed.
I reflected quickly on Saturday evening, right after the dinner, about what the arrangement—largely as announced by the White House—might mean. It certainly looked like a truce and neither side, in my estimation, had really given away the farm. Xi didn't cave; no one quite expected him to. At the same time, the Trump administration managed to hold fast and use the credible threat of raising the existing 10 percent tariffs on $200 billion in Chinese goods to 25 percent to extract what appeared to be some commitments.
But from there, it appeared that China had entirely another understanding of what had transpired.

Confused about what exactly Xi and Trump promised each other yesterday? Here's a side-by-side comparison of the readouts from both sides. The U.S. on the left, China on the right https://t.co/5N7aISEdew @LucilleLiu @JDMayger @Jeffrey_Black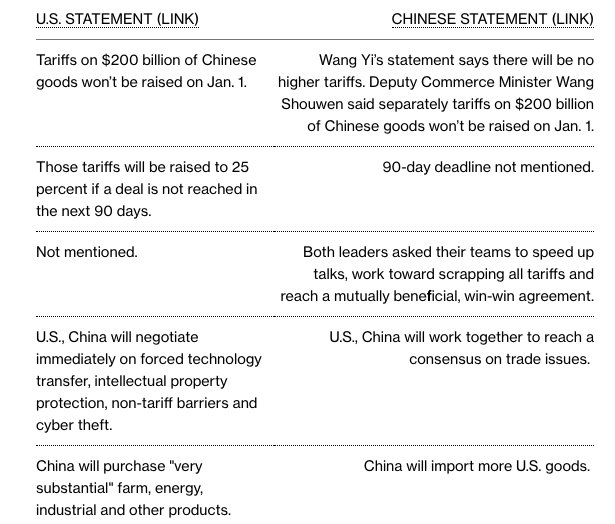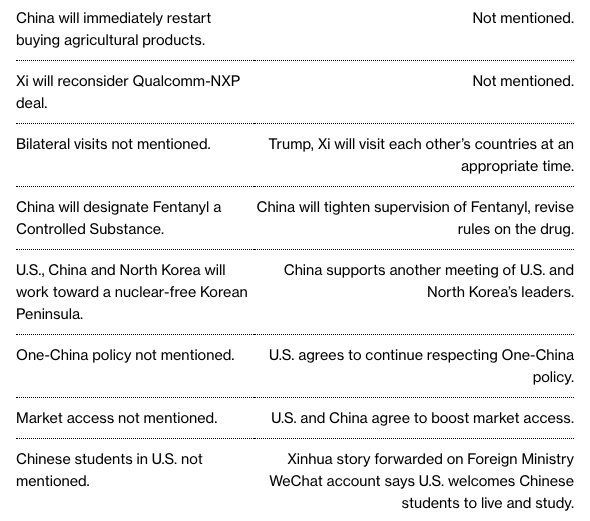 Readouts do normally vary between sides after a diplomatic encounter, of course, but Beijing made no acknowledgement of the very concessions that the Trump administration touted as being evidence of a decent deal—one that respected core American concerns. Critically, the 90-day period that the White House cited as an opportunity for the two sides to work toward a more comprehensive agreement, saw no mention in Chinese readouts. Meanwhile, the South China Morning Post reported that China had started censoring the U.S. embassy's WeChat posts touting the trade agreement at Buenos Aires using the White House readout language.
All of this leaves the G20 agreement in an uncertain place. Markets, perhaps acknowledging this uncertainty, reacted initially with a fairly lukewarm positive turn before a precipitous fall on Tuesday U.S. time, as this newsletter was being written. (Something about Trump declaring himself a "tariff man" on Twitter perhaps didn't sit right with investors?) The broader point stands with the trade war: the fundamental differences between the two sides are no closer to being ironed out.
Bottom Line: There's considerable uncertainty around the commitments the United States and China gave each other in Buenos Aires. If the trade war is in a truce, we'll find out when January 2019 comes around.
East Asia.
I hinted at this in the previous issue, but the issue of renewed Russo-Japanese talks over their mutual territorial dispute over the Kuril Islands merits a deeper look. In September, Russian President Vladimir Putin drew headlines for apparently shocking Japanese Prime Minister Shinzo Abe—an overstatement, perhaps—by proposing that the two sides finally resolve that decades-long dispute by entering talks toward a peace treaty "without any preconditions." In short, the two sides have long been quagmired over this issue, relating primarily to the issue of sovereignty and the 1956 Joint Declaration between the Soviet Union and Japan. Japan wants to see the sovereignty of the disputed islands, which are currently administered by Russia, addressed, and Russia has refused to do that. At the East Asia Summit in November this year, Putin met Abe and the two hashed it out again, but there wasn't any real progress apart from both leaders agreeing to "accelerate talks." (Nick Trickett took a look at Putin's EAS for The Diplomat.)
Since the EAS encounter, there has been some progress. This week, Abe anointed his foreign minister, Taro Kono, with the lead on the negotiations with Russia going into 2019. The goal remains a peace treaty. (A side note on Kono: it was his grandfather, Ichiro Kono, who signed the 1956 agreement with Nikita Khrushchev.) On the Russian side, Foreign Minister Sergei Lavrov will lead the charge.
The appointments and partitioning of portfolios, however, shouldn't suggest that this time things will be different. What is different this time compared to previous attempts is that Russia's attempts to economically galvanize its Far East with Japanese investment have come a long way and Japan has reciprocated. Cementing a peace treaty would probably unlock greater opportunities for both sides, but there's a long list of issues to work through before getting there. Incidentally, I just returned from a trip to Vladivostok in the Russian Far East in late-November and a couple Russians who work on international affairs out of the country's Far East saw similar benefits to resolving this issue with Japan.
For Tokyo, however, the primary issue will be a satisfactory resolution of the dispute, namely with the transfer of sovereignty of the four disputed islets to Japan. Getting there will mean swallowing tall Russian asks, which may include the exclusion of the islands from the U.S.-Japan Mutual Defense Treaty and the removal of sanctions that Tokyo agreed to impose on Russia in 2014 for its annexation of Crimea.
Bottom Line: Russia and Japan are back to talking about the Kuril Islands in a more serious way than they have in recent years, but there's little reason to believe that this time will really be different.
South Asia.
December will be a big month for two of India's neighborhood relationships. The newly elected president of the Maldives, Ibrahim "Ibu" Mohammed Solih, and the newly elected prime minister of Bhutan, Lotay Tshering, are both expected in New Delhi. With the Maldives, the Indian government will seek to capitalize on what turned out to be an unexpected opportunity. Where many had expected the country's former, autocratic-leaning president, Abdulla Yameen, to manipulate state institutions and eke out victory in the September elections, Solih rose to the top on the back of unprecedented democratic turnout and enthusiasm. In his inaugural address in November, Solih pledged to improve and restore relations with India. (Indian Prime Minister Narendra Modi made his first trip to the Maldives to attend Solih's inauguration.) The rapprochement between New Delhi and Male will be in full swing with Solih's visit to India.
With Bhutan, matters are a little more nuanced. Last year, India and China found themselves mired in a standoff on a piece of territory on the Doklam plateau claimed by Bhutan and China; India, Bhutan's close partner and security guarantor, stepped in to prevent Chinese construction activity in the disputed territory. While that standoff was resolved more than a year ago, the situation on the Doklam plateau remains tense, with the Chinese People's Liberation Army having considerably upped its presence. For India and Bhutan, part of managing the relationship over the recent decade or so has been the issue of Thimphu's outstanding territorial dispute with China. (India and Bhutan are the only countries among China's land neighbors that have yet to finalize their borders with Beijing.) With Lotay Tshering, New Delhi will want to ensure that the relationship is properly calibrated under a new government and that Bhutan won't be prone to make any territorial concessions to China that might harm India's interests. (If you missed it, The Diplomat's Sudha Ramachandran had a deeper dive on this very issue.)
Bottom Line: India's neighborhood policy will be in the spotlight in December as the leaders of Bhutan and the Maldives head to New Delhi.